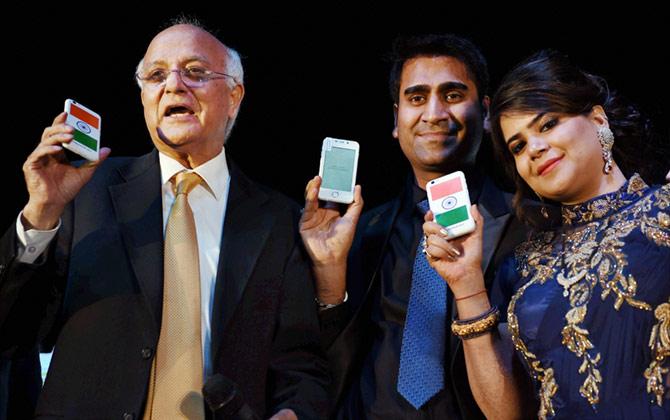 It appears Freedom251's success hinges on the proposed online marketplace, which the company will offer through a preinstalled app.
The meeting was overdue for a while.
After several rounds of scheduling and cancelling in what already seems a long week, the men behind Ringing Bells settle for a morning meet at a café in Kalkaji.
Ashok Chadha, 65, suave astrophysicist in a sharp suit and designated president of Ringing Bells, is first to arrive.
The bald, bespectacled Chadha, who speaks fluent Bangla apart from English and Hindi, holds forth for the next hour as we wait for his young partner.
Asking almost as many questions as he answers ("Do you know the designation of London's police chief?"), Chadha, associated with the New York-based Avenue Capital, dwells on how Ringing Bells brings together the best of flagship government programmes such as Make in India, Digital India and Skill India.
He believes the Rs 251 phone will help the 12-14 million consumers who buy feature phones every month to upgrade to smartphones.
This will convert the Digital Divide into a Digital Connect, he adds with a gleam.
While articulate about the big picture, questions about company plans are met with guarded responses, which at times turn cryptic.
He also refuses to answer why he has not taken a board position in the company, saying, "It is an internal matter."
By the time Mohit Goel, promoter and managing director, joins us, Chadha has spoken at length about the four pillars of the business -- technology, economies of scale, online distribution and the network effect.
He also tells us how it was unfair for journalists to have gone after family pictures of the recently-married Goel.
Goel, a lean, young man, arrives in deep blue jeans and a denim jacket.
More comfortable in Hindi than English, Goel explains how the partnership developed from a chance meeting.
"We met at a function two years ago," he says, adding, "I had some ideas and Chadha had the strategy to execute these. We started about eight months ago on this specific project."
Goel answers questions about his past with some confidence though Chadha does not appear happy.
The MBA from Amity University recalls how he started a dry fruit business in Shamli, a district near the western border of Uttar Pradesh, and scaled it up.
Brushing off questions why Chadha chose him for this business and doubts about whether he was fronting for someone else, Goel says ideas are more important than experience.
He adds he has pumped in Rs 1 crore (Rs 10 million) to top up the initial investment of Rs 60 lakh (Rs 6 million).
"Investment is not a problem," Goel says, claiming he is in talks with 10-12 investors, including corporate houses, and can raise Rs 500 crore (Rs 5 billion) in quick time.
Under scrutiny from government departments, Goel and Chadha had met Union Minister for Telecom & IT Ravi Shankar Prasad to explain the viability of their business model. The minister was convinced, they claim.
The minister's statement though came with a warning.
"Our ministry enquired into how prepared they (Ringing Bells) are.
Whether they can provide a phone for Rs 251 or not. Whether they have the Bureau of Indian Standards certificate or not.
"We have spoken to them," PTI quoted Prasad as saying. He added this was done to ensure that there were no discrepancies later. "If there are any, we will take action.
Our department is keeping a watch," Prasad said.
Goel is confident he will be able to deliver on time.
He expected shipments of Freedom251 by April, in time for the June deadline.
Even accounting for the excise duty cut, online distribution and economies of scale, the input cost of the handset comes to about Rs 1,000.
Goel claims he can comfortably make a margin of 10 per cent at this level.
This is where an alteration to the company memorandum in January comes into play. Four months after starting out as a phone maker with main objects in telecom handsets and m-commerce, Ringing Bells added e-commerce and allied activities to its objects.
The duo now hopes to convert the 75 million registrations into a consumer base that will form the foundation of an online marketplace.
"Even Snapdeal has 45 million users. We are already bigger," Goel says, his thick eyebrows stretching in excitement.
Both Goel and his mentor iterate how the fear of them running away with Rs 62.8 crore (Rs 628 million) raised from 2.5 million bookings is baseless.
"The money is safe with the payment services solutions provider."
However, some tech websites had pointed out an inconsistency between the statement from PayU Biz, the payments service provider, and Ringing Bells' claims.
While company says the money stays in an escrow account till delivery of goods, the portals interpreted the PayU Biz statement read with the description of the payment models on its website otherwise.
"PayU is a payment gateway provider, but it has two products, PayU Biz and PayU Money.
"The company provides buyer protection/escrow services in PayU Money, but doesn't do so under PayU Biz, in which the merchant gets the money in a matter of days. Which means Ringing Bells is misleading customers," said tech portal Digit.in.
It appears Freedom251's success hinges on the proposed online marketplace, which the company will offer through a preinstalled app.
Chadha says they are in talks with at least 300 sellers.
The phones will also have utility apps that will earn the company additional revenue (it is in discussions with 25 such service providers).
The company will be launching the services in five major Indian languages, including Hindi, Bangla and Tamil, apart from English.
The model will be a key for many sellers to reach millions of consumers in the hinterland.
Goel says they are in the middle of a pilot focusing on Uttar Pradesh, Uttarakhand and Delhi. He reasons this focus on Uttar Pradesh created the confusion over the registered office.
"We want to scale up our base in Uttar Pradesh fast. That's why we had moved to Noida."
The scheme to leverage the network seems crucial for Goel and Chadha, as it will help them subsidise the phones by Rs 700-800 apiece.
When suggested this strategy sounds like an improvisation of the deep discounts offered by many e-commerce portals and needs the deep pockets of venture funds, Chadha shoots back, "You are absolutely wrong."
The pair does not rule out a possible tie-up with a telecom service provider.
"We may, say, provide a BSNL SIM," Goel says. As the answers bring with them more questions, Chadha receives a call and is in a hurry to leave. Goel does not want to be left behind.

NEW CLAIMS RING ALARM BELLS
In talks with 12 investors; can raise Rs 500 crore (Rs 5 billion) in no time
Online marketplace to be crucial for Freedom251's survival
Has potential to convert 75 million willing buyers into consumers for online sellers
300 sellers, 25 online service providers are willing to tie-up
Image: Ashok Chadha, President, Ringing Bells with Director Mohit Goel and CEO, Dhaarna Goel during the launch of Smartphone-Ringing Bells Freedom 251, in New Delhi. Photograph: Manvender Vashist/PTI