Samsung makes the largest number of non-4G feature phones in India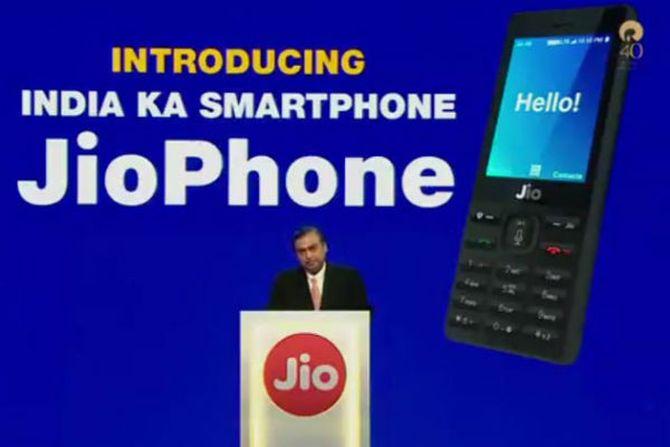 A substantial portion of the estimated 159-million feature phone device market could shift to Reliance Jio this year.
This is likely to impact the Indian device manufacturers, small Chinese manufacturers as well as Korean giant Samsung.
That is, of course, if Jio decides to continue importing more phones or getting them manufactured in India through international suppliers.
According to sources, Jio is already in talks with Taiwanese major Foxconn Technology group, the world's largest contract manufacturer of mobile phones, to make its phones.
With a 10 per cent import duty from July 1, Jio is already looking at manufacturing in the country.
With the company planning to launch its device in September, chip manufacturers are expecting the company to ship 30-50 million phones this year - which would be between a third and a fifth of the total feature phone market.
"It will surely impact Indian feature phone manufacturers. But in the long run, I am sure the phones will be manufactured in India and that will benefit the country," said Pankaj Mahendru, chief of Indian Cellular Association, the body for mobile phone manufacturers.
The concerns were repeated by the proprietor of an Indian handset manufacturer.
"It will have an effect. But what remains to be seen is whether our customers leave us or they buy a JioPhone as an alternative.
The sales channel in rural markets needs to be checked and we will keep a tight grip. Also, poor networks in these regions are not suitable for 4G devices," the person said.
Even Korean giant Samsung, which declined to comment on the launch, would face a dent, analysts said.
After all, they are the largest feature phone manufacturers in the country and do not manufacture 4G-enabled feature phones.
In the long term, however, it could help them by accelerating the shift of feature phone users to smartphones - which was slow earlier because of the price differential of nearly four times.
Big Chinese players like Xiaomi, Oppo, Vivo and Gionee, however, can continue with their dream run in the country.
The will be unaffected because their focus has always been on smartphones.
"It seems a bit difficult to believe that we would launch a phone which wouldn't be smart. All our smartphones are 4G compatible out of the box and we believe the 4G phenomena in the Indian market would act as a booster for the growth of smartphones," a spokesperson of Xiaomi said.
Indian manufacturers are now looking at two alternatives.
Some are talking to Jio to be suppliers for them. Intex, for instance, has admitted publicly that it is in talks with Jio to bundle the phone and will launch the phone this quarter.
The other option is to manufacture premium 4G feature phones, so that it does not compete with Jio's offer.
"We already have a 4G feature phone that costs more than Rs 3,000. Our strategy will be to make phones that have more features in this space," said S N Rai, director, Lava Mobiles.
The entry of 4G feature phones will, however, not revolutionise this segment as dramatically as smartphones did.
"This will not result in market movement to 4G feature phones as quickly as it did in the case of the smartphone, where the share of 4G devices shifted from 11 per cent to 65 per cent in just one year," said Jaipal Singh, senior analyst at IDC.
Analysts say Jio is getting into the device business so that it can kick off an ecosystem for 4G feature phones that does not exist in India at present.
Once other manufacturers get in and offer phones at a cheaper price, Jio would slowly reduce its commitment.
This was precisely what they did with the launch of 4G voice of LTE (VoLTE) phones under the LYF brand.
But with other device manufacturers also introducing a range of VoLTE phones, Jio took a backseat.
According to estimates, the market share of LYF fell to 2.5 per cent in Q4 of 2016-17 from 6.9 per cent in Q3 of 2016-17.
Photograph: Kind courtesy, Jio