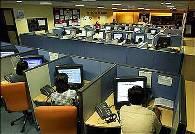 The task force constituted to suggest steps for stimulating growth in the IT, ITeS and electronics hardware manufacturing industries has submitted its recommendations.
Headed by Ajai Chowdhury, Chairman & CEO, HCL Infosystems and chairman of Task Force, and 12 other IT industry giants, the Task Force has recommended, among other things, that broadband should be made available to all like water and electricity.
"This should lead to better access to information (search), access to transactions (pay per use applications, computing), as well as access to interactivity," he said.
The task force has three sub-groups. The IT and ITeS group is headed by Som Mittal; the electronic system design group by B V Naidu; and the strategic electronics group by Kiran Karnik.
The Task Force has also suggested that the government consider immediate steps including establishing direct and indirect offset policies that address five specific areas that will help rapidly fill gaps in domestic investment and assist in technology transfer.
These include co-production, licensing agreements, local installation and assembly, transfer of technology, purchase of components from India (including nuclear, aerospace and defence related IT and software).
"Special post- contract monitoring mechanisms should be put in place, similar to the 2002 Defence Procurement Procedure, to ensure offsets are genuinely used to build new and critical capabilities," said Chowdhury.
Given the size of the aerospace, defence and nuclear market opportunity and current momentum among the private sector players and potential investors, the government has an opportunity to develop a highly strategic and competitive domestic IT industry.
It is important to understand that the nature of competition in these industries is not perfectly competitive with significant barriers to trade based on security, economic and geo-political considerations, Chowdhury added.The Task Force has recommended that the government accelerate process of participation by private sector.
For an area like defence sector, it will be critical to address inclusion of private sector in making and buying equipment, guidelines for participation, and specifically identifying areas such as systems integration, monitoring and test capabilities, that leverages the established capabilities of indigenous IT and software players.