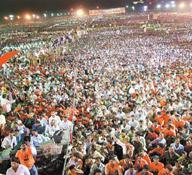 With the political crisis over the Centre's announcement of creating a separate Telangana state casting its effect on the state capital, two business process outsourcing (BPO) companies have moved their employees to nearby hotels, even as other information technology (IT) companies have beefed security.
The companies have adopted such measures for the safety of their employees and also to ensure business continuity of their international clients.
For instance, ADP Private Ltd, a provider of software development services which has its operations in the heart of the city, had moved its staff to an expensive hotel on December 23, the same day when Home Minister P Chidamabarm made his second statement, calling for wider consultations on Telangana.
The company has over 3,000 employees on its rolls across its Hyderabad and Pune centres. The staff stayed at the hotel and reported to the office the next day (December 24), which saw a violent outburst in the city. The hotel stay was necessitated after the office withdrew its employee transportation services in view of the 48-hour bandh call given by the Telangana Rashtra Samithi (TRS) protesting the home minister's statement.
When contacted, ADP Private Ltd Managing Director Shakti Sagar said: "We moved them to the hotel to ensure security of employees first and for business continuity. Anyway, it is voluntary for the employees to stay at the hotel or not."
Initially, the company planned to keep the employees in the hotel for two days. However, with the TRS relaxing the bandh in view of Christmas, the employees were back to their homes.
The shift for those doing the backend work for UK companies begins at 1 pm and for those serving the US clients start at 7.30 pm. Customer service, phone banking and other similar operations need 24X7 operations.
"With pro-Telangana protestors indulging in violence, lot of our work is getting affected. In fact, many of our international clients, including IBM, have imposed business travel restrictions on Hyderabad. However, to ensure business continuity of our international clients, we are beefing up security at our development centre and even pulling the shutters down once all the employees are in," said C K Shastri, managing director of Hyderabad-based enterprise agility software products company, Intense Technologies Ltd.
"My sister called and told us they would need to stay at the hotel for two days," said Anand (name changed). According to him, such arrangements are not uncommon during emergencies.
"There was trouble on Thursday, as the agitators tried barging into our 700-seater technology development and delivery centre in Hyderabad. So, we called the police and they gave us protection for two to three hours. In fact, we had arranged a fleet of 20 cars to ferry our staff, especially the female employees, as auto-rickshaws and buses are off the roads," said G V Kumar, chief executive officer and managing director of Chennai-based Megasoft Ltd, a provider of convergent service delivery infrastructure solutions to wireless and wireline operators.