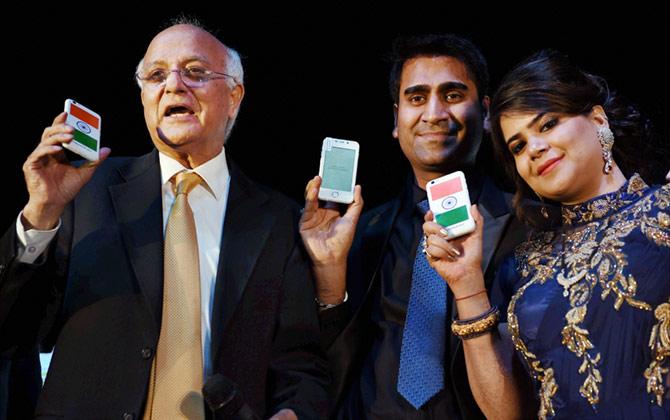 The panel's report is expected this week.
The ministry of communications and information technology on Monday quizzed the management of Noida-based firm, Ringing Bells, which came into the limelight after launching a smartphone for Rs 251.
The company's president Ashok Chaddha and promoter Mohit Goel were grilled about the viability of their business model and how they were offering the smartphone Freedom 251, at such a low price when experts have said that the handset cannot be sold below Rs 3500.
"It will import 50,00,000 units in the first phase, which will be assembled in New Delhi.
"Then,they will start manufacturing in India," a senior official from the ministry told Business Standard.
The company also informed it would soon apply for a Bureau of Indian Standards certificate.
Minister Ravi Shankar Prasad has asked department secretary, Aruna Sharma, to look into the scheme.
Also, a committee has been set up in the department to ascertain the claims by Ringing Bells.
It has been triggered by a letter from Bharatiya Janata Party leader Kirit Somaiya and Indian Cellular Association.
The panel's report is expected this week.
The Income Tax and excise departments are also looking into the financial structure of the company and have obtained documents, including from the registrar of companies, in this regard.
Freedom 251 was launched last week in a big event by BJP senior leader Murli Manohar Joshi.
The online booking started on February 18 but the company site soon crashed.
Till now, it has taken money from 30,000 customers -- while the phone will be delivered in the next four months.
Image: Ashok Chadha, President, Ringing Bells with Director Mohit Goel and CEO, Dhaarna Goel during the launch of Smartphone-Ringing Bells Freedom 251, in New Delhi. Photograph: Manvender Vashist/PTI