The government is tightening the noose around telcos, internet service providers (ISPs), network service providers and search engines in a bid to monitor internet traffic.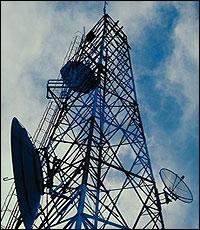 The exercise is ostensibly for security reasons and to prevent "misuse" of the freedom of speech in cyberspace.

For one, the Centre plans to monitor third-generation (3G) mobile services offered by all telecom service providers - currently monitored by provisions under the unified access service licence - by bringing these under the ambit of the internet monitoring system (IMS).

Simultaneously, prominent ISPs and search engines such as Google, Microsoft, Yahoo and Facebook have been given till the end of this month to come up with a concrete proposal to monitor "defamatory and unsavoury" content.

The move, according to sources close to the development, was initiated by Kapil Sibal, minister for communications and information technology.

In a recent meeting of an inter-ministerial group to review the IMS deployed nationwide by the Centre for Development of Telematics (C-DoT), it was suggested 3G
mobile services may also be considered as internet service provider data.
The group had officials from the department of telecommunications (DoT), Intelligence Bureau and C-DoT, among others.
The IMS already installed by C-DoT enables the monitoring of internet data. It will now be upgraded, keeping in mind the latest attacks and security needs of the country.
The IMS covers 71 locations and nearly 1,500 Gbps internet traffic, and is developed in close coordination with security agencies.
The IMS capacity is decided in consultation with service providers by C-DoT, considering the three-year traffic projections provided by service providers. The government can access data through IMS based on the needs of security agencies.
Both state-run telecom players BSNL and MTNL have already floated tenders for procuring hardware equipment. For BSNL, the process is expected to be completed by the month-end. The IT Act (Amendments), 2008, provides the broad parameters for interception/monitoring of telecom services.