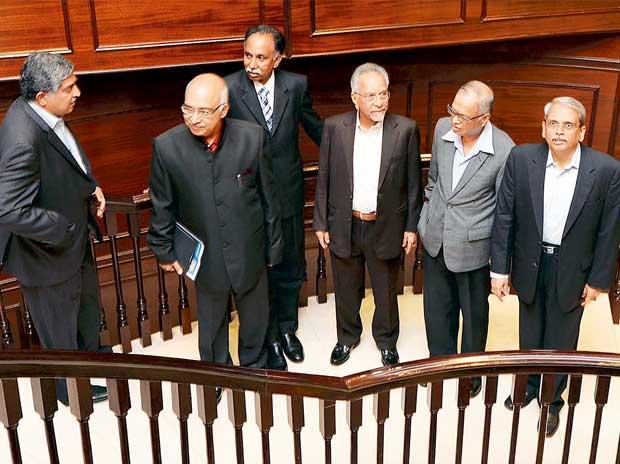 After 33 years of association with Infosys, the company's founders now want to step down and become one of the company's several shareholders.

N R Narayana Murthy has turned down the offer to become Infosys's chairman emeritus, saying he wants to "avoid any perceived conflict" at the firm he co-founded 33 years ago.

He added he wanted to be an "average Joe". Also, the promoters - Murthy, Nandan Nilekani, S D Shibulal, S Gopalakrishnan and K Dinesh - have told the company they no longer want to be known as 'promoters'.
With the last two founders, Murthy and Gopalakrishnan, remitting office, the founders do not exercise any control over the affairs of the company.

"They have, therefore, requested the company to seek appropriate classification of their revised status," said a company statement.

When asked about Murthy's future role, Chief Executive Officer Vishal Sikka said, "It is their wish.

They have had an incredible impact on the country and on the industry. I'm going to look for continuous advice and guidance from him (Murthy). He will forever be known as Mr Infosys."

"They have been attached to the company for years and, for the independence of the company, they feel they should be classified as any normal shareholder," said Chief Financial Officer Rajiv Bansal.

The founders, along with their families, hold 15.94 per cent stake in the company.

At Friday's stock price of Rs 3,888.9, the combined shareholding of the promoters stands at Rs 35,583.4 crore (Rs 355.83 billion).

Analyst say reclassification of promoter holding in Infosys could further increase its weightage in the benchmark Sensex and Nifty.
A STEP BACK
Promoters reclassified as ordinary shareholders
S K Poddar's family giving up board positions and other entitlements in Gillette India

Hinduja family in Gokaldas Exports, the company founded by it, which was acquired by PE major Blackstone

Vikram Akula and Sequoia Capital in SKS Microfinance

Cairn UK Holdings in Cairn India, after it sold majority stake to Vedanta Group
It also means the promoters can take individual calls on the shares they hold, as well as distance themselves from any decision the management takes.

Currently, Infosys has greater weightage in the benchmark indices than Tata Consultancy Services, despite its market capitalisation being less than half of the latter's.

This is because the indices use free-float methodology to determine weightage. Infosys has higher free-float market capitalisation, as its promoter holding is just 15.94 per cent, compared with TCS' 73.9 per cent.

Wipro's promoter holding stands at 73 per cent.

Shriram Subramanian, managing director of proxy advisory firm InGovern Research Services, said: "It's the right move. Infosys will truly move out of the shadow of their promoters and become a truly public-owned company. Most founders have moved out of the company and are either in the directorship or the management.
Narayana Murthy, too, has decided to give up the post of chairman emeritus.

Therefore, there is no rationale for them to continue as promoters.

"The move will help them sell shares without having to do the tedious disclosures."

An issue, in terms of classifying a promoter entity as an ordinary shareholder, had surfaced last year, when private companies had to pare promoter holding to meet the Securities and Exchange Board of India's 25 per cent minimum public shareholding requirement.

The regulator had rapped a few companies that had reclassified promoters as non-promoters which, Sebi felt, was an easy way out for companies to meet the public float requirement.

A framework to enable a promoter entity to become an ordinary shareholder is in the works at Sebi. Experts say the regulator doesn't have an issue with reclassification, as long as the entity doesn't have special rights and privileges such as managerial positions, which give them control.

"The rules don't say 'once a promoter, always a promoter'.
"However, the onus is on the entity wanting to give up promotership to prove it is no longer in control of the company or has special rights or will act as persons acting in concert," said R S Loona, managing partner, Alliance Corporate Lawyers.
Image: Co-founders (from left) Nandan Nilekani, K Dinesh, S D Shibhulal, N S Raghavan, N R Narayana Murthy and S Gopalakrishnan at a farewell for Gopalakrishnan at the Infosys campus in Bengaluru on Wednesday; Photograph: Kind courtesy, Business Standard