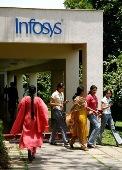 Finacle, banking product unit of Infosys, is banking on financial inclusion and adoption of core banking solution by regional rural banks as big growth driver to draw more revenues from domestic market.
"Rural banking and financial inclusion are big opportunity," Haragopal M global head Finacle Infosys Technologies told PTI.
Financial inclusion is taking banking services to the rural and remote areas where branches are absent with the help of technology.
As many as 13 RRBs have finished implementing Finacle CBS solution for their operations.
As per the RBI guideline all the RRBs have to migrate to CBS by September 2011. Currently, there are 86 RRBs in the country.
Besides, core replacement opportunity and new innovation would add to the revenue, he said.
Talking about the performance of Finacle during the year ended March 2010, Haragopal said, the topline grew at $208 million during 2009-10 against $184.8 million in the previous fiscal.
This is an important milestone for the division, he said, adding, "for the first time we crossed $200 million."
As many as 31 deals were signed and coincidently 31 banks across the globe implemented Finacle in the year, he said.
Finacle, with 131 clients across 65 countries, rolled out 5 new products during the last fiscal.
During the fourth quarter ended March 2010, Finacle topline stood at $65.8 million compared to about $49 million in the previous quarter, registering a growth of 33 per cent on quarter-on-quarter basis.
Haragopal said Finacle solution for RRBs is a comprehensive, integrated yet modular business solution that effectively addresses their strategic and operational challenges, he said.
It is future-proof solution and can be seamlessly integrated with other enterprise applications.
With a robust architecture and proven scalability, it ensures protection for the institutions technology investments, he said.