Growing protectionism in their main markets - the US and the UK - has forced them to hire local workers, upending the cost arbitrage model they had built their business on.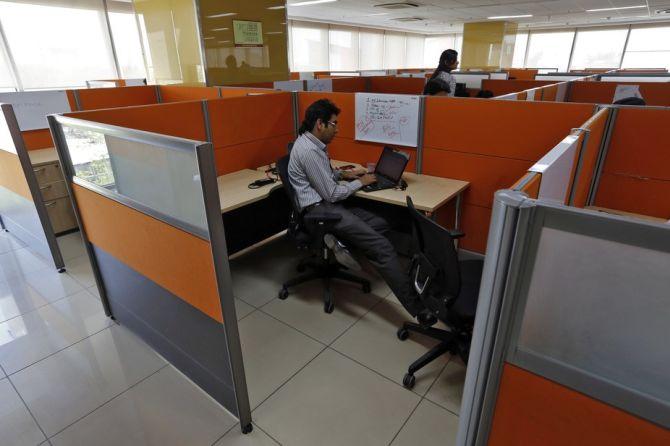 India's IT services industry is staring at jobless growth because its top employers are focusing on automation to improve productivity and deliver services while they battle shifts in technology to remain profitable.
In the first quarter of FY18, Tata Consultancy Services and Infosys, which account for around a fifth of India's software exports of $117 billion, saw their employee headcount reduce over the previous three months.
TCS' employee count dipped by 1,415 to 385,809, while in Infosys it reduced by 1,811 to 198,553.
The reduction in the employee base in the first quarter - the strongest three-month period for IT exporters and a period when they take in most new recruits - portend a weak scene for a sector that has been so far been generating highly-paid jobs.
Indian software exporters are facing challenges of slowing business from traditional services, which contribute four out of five dollars they earn; automation, which is eliminating the need for low-end workers; and shifts in client spending towards digital and cloud, where it needs people to consult and jointly work with clients to build solutions.
Growing protectionism in their main markets - the US and the UK - has forced them to hire local workers, upending the cost arbitrage model they had built their business on.
The National Association of Software and Services Companies (Nasscom), the industry lobby, has projected the industry will grow at single-digits - 7-8 per cent - this year, for the second year in a row, and net 150,000 new jobs.
Last year, exports grew 8.3 per cent, while the sector's domestic growth was 8.6 per cent to $38 billion, taking the total to $155 billion.
The industry contributes 7.7 per cent to gross domestic product.
Infosys chief executive Vishal Sikka said recently: "Even though our net headcount decreased slightly, we did hire more than 8,600 Infoscions, so hiring continues, but the rate of growth is slowing down."
More than 2,000 of the new jobs were added in the United States, where the company is hiring aggressively.
"The important thing to keep in mind there is that the advances in automation technology, more and more of the commoditizing jobs are going away and we have to move forward towards next-generation jobs, new areas of opportunity and building new skills for that," said Sikka.
Ajoyendra Mukherjee, the global head of human resources at TCS, says that the gross hiring of employees, across geographies, will be lower in FY18 than in the previous year.
"When a technology shift happens we build the talent pool internally. Some talent you need from the market but given our size, it is difficult to meet the entire requirement externally.
Some will be hired from outside but a majority of our internal teams will be trained.
This works out better because existing employees understand your organisational culture and process better than a new person who needs to inducted across time," said Mukherjee in an interview.
Analysts say Indian companies are witnessing slower business growth and that is reflected in the hiring pattern.
"Utilisation has gone up 2 per cent, (but) the rupee has appreciated and everybody is postponing joining of freshers to show better margins.
The fact is global spending is down.
When global spending is only 2 per cent what kind of growth can you get," said T V Mohandas Pai, chairman of Aarin Capital, a venture capital firm, and a former director at Infosys.
Indian IT firms including Tech Mahindra and Wipro and their global counterparts such as IBM and CapGemini at their offices in India have tightened employee performance metrics and letting go of their engineers as they try to navigate their toughest phase in over a decade.
As automation takes over entry-level jobs, mid-level professionals who have not upgraded their skills or have been in managerial roles are losing jobs.
"Even if mid-level or senior employees, who are at risk, train themselves on emerging technologies, do they have job assurance," asks Sanchit Vir Gogia, founder and chief executive, Greyhound Research.
Photograph: Adnan Abidi/Reuters