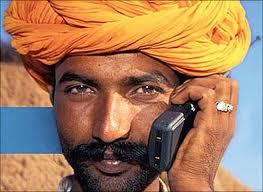 They started from scratch a few years ago and leveraged the mobile services boom to become key market players.

Home-grown handset makers Micromax, Karbonn, Intex, Lava and Maxx, which controlled 35 per cent of the mobile handset market last year, hope to increase their value share in the Rs 45,000-crore (Rs 450 billion) market to 50 per cent in 2014.

Their rise is believed to showcase the success story of India's manufacturing sector.

But, dig a little deeper and the story looks less impressive.

For, these home-grown mobile phone companies have built their sales through massive imports -- the bulk of that from China.

Thanks to huge economies of scale, Chinese manufacturers hawk mobile devices at rock-bottom prices to these Indian firms.

The prowess of Chinese manufacturing can be gauged from the fact that last year 850 million devices -- more than 50 per cent of global production -- were made in that country alone, according to ABI Research.

By comparison, India, though the world's second-largest mobile services market, has failed to spawn a manufacturing hub for handsets.

According to the Indian Cellular Association, a body representing the mobile phone firms, 67 per cent of the 245 million devices sold in India in 2013 (63 per cent, or Rs 36,000 crore or Rs 360 billion, in value terms) were imported (see chart).

Going by that and assuming the entire handset demand in the country was to be met through domestic production, more than 61,000 manufacturing and related jobs could have been created in India.

And, there could have been a huge addition to that number if India were to also turn an export hub (for every 100 million production, 25,000 direct and indirect jobs are created).

Besides, in what appears a more worrisome trend, despite 100-odd home-grown mobile companies in the market, India's mobile phone imports rose from 130 million units in 2012 to 165 million units last year -- an increase of 27 per cent.

Also, domestic production of mobile phones (including exports, largely by Nokia) fell 30 per cent from 180 million units to 125 million during the same period, according to ICA.

This implies handset exports from India, after rising from 80 million units in 2010 to 95 million in 2011 and 110 million in 2012, crashed to 45 million devices last year.

ICA President Pankaj Mahendroo says: "The sudden production drop is due to a fall in Nokia's output. That's a cause for concern."

Nokia, the country's largest manufacturer, with a capacity of producing 200 million units a year, is facing problems.

It is believed to have lowered its Chennai factory's production because of income-tax authorities slapping a huge tax bill and freezing its assets to stop it from transferring the plant to Microsoft, which has bought over Nokia globally.

Nokia India did not comment on the output drop. Neither the home-grown manufacturers nor the global ones like Samsung, LG, and Sony have been able to fill this production gap.

At present, Karbonn and Micromax, the biggest domestic mobile phone companies, import nearly their entire requirement from China.

These two, though, are setting up their manufacturing units in the country.

Foreign player Sony (formerly Sony Ericsson), earlier did some contract manufacturing in India.

But it has stopped doing that since 2008 and currently imports almost everything. Other mobile companies, which do some assembling and manufacturing -- Samsung, LG, and Lava claim they do some value addition -- import 85 per cent of their components, on an average.

Karbonn Mobile Managing Director explains why manufacturing here is not attractive. "The component ecosystem is not ready.

"Frankly, if we have to import all our components, it does not make sense to manufacture here.

"Assembling of handsets with imported components increases the cost by two-three per cent due to other associated costs.

"However, if vendors come to India, the cost would surely come down."

The problem is only compounded by the fact that the components
made in India are believed to be of low value.
Lava Mobiles Director S N Rai says: "We do 10-12 per cent of value addition in India. This includes manufacturing phone chargers and doing some battery packing.

"But display, processor and memory chips, which account for 60-70 per cent of the cost, have to be imported."
According to KPMG, the mobile phone components manufactured in India are low-value products like casing, plastic and box packaging.
These constitute five per cent of the bill for materials required in manufacturing a phone.
Even simple components like keypads, except for entry-level phones and entry-level feature phones, have to be imported.
However, Nokia has made some inroads by bringing in some international component vendors into the country.
For instance, Foxconn manufactures casings and imports and assembles electronic components, BYD does keymats and Salcomp manufactures chargers.
But, experts say, even these companies continue to import the bulk of their components.
Besides, with the tax controversy looming, there are fears that Nokia's Chennai plant might lose out substantially in the new arrangement where it has stayed out of the Microsoft deal.
That could adversely affect the domestic mobile manufacturing story.
Of course, India turning into a manufacturing hub to cater to its large domestic demand is not a very difficult proposition, especially as many global companies want to hedge their exposure to China.
"Considering the number of mobile subscribers, India has the potential of becoming a manufacturing hub for mobiles.
"But this is unlikely till the government takes some proactive initiatives to bring in global equipment makers and incentivises domestic manufacturers," says Mritunjay Kapur, head of risk consulting and strategy at KPMG in India.
KPMG says India accounts for over 14 per cent of the global mobile phone demand.
This is more than Western Europe (six per cent) and close to North America (13 per cent), but less than China (19 per cent).
However, the problem is that, unlike China and Taiwan, the government here not done much to encourage manufacturing or bring in technology transfer.
That's reason why those countries have become hubs for mobile manufacturing and design, and not India.
China, for instance, offered tax incentives to foreign companies tying up with Chinese firms.
Also, foreign companies transferring technology were offered tax concessions of up to 50 per cent for three years.
The country set up science and technology parks, where companies were given a bevy of tax concessions and exemptions, but made it mandatory for them to transfer technology and detailed technical documentation, even train their Chinese staff so that they could design equipment independently.
Taiwan offered to subsidise 30 per cent of the expenses incurred by companies on developing high-tech products.
Meanwhile, the Indian government, though belatedly, is trying to get its act together.
After over six years of wooing companies to set up a chip fabrication plant and various aborted attempts in 2011 to get interested players, the Union Cabinet this year cleared two proposals -- one led by the Jaypee group for setting up fabs with an investment of over Rs 50,000 crore (Rs 500 billion).
It has agreed to provide incentives, including a 25 per cent subsidy on capital spending, tax breaks and interest-free loans.
But this might not be enough for the country to come anywhere close to China, which already has over 100 such chip plants; or Taiwan, where the government initially supported and then transferred technology to private players.
After all, none of the global leading fab players with large capacities showed interest in bidding for the Indian offer.
Even the big Indian corporate names mostly stayed away.
And, many of them say the incentives are not good enough -- China not only subsidies these facilities but takes care of the losses.
However, the Indian government's first steps cannot be ignored or played down.