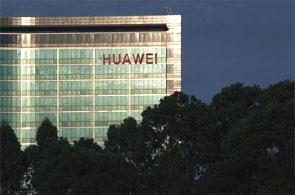 China's Huawei Technologies launched its second flagship smartphone, the Ascend P7, on Wednesday as part of its effort to crack the upper tier of the mobile market where Apple and Samsung still rule.

The mobile -- billed as the world's slimmest phone at 6.5 mm thick -- will go on sale in 31 markets, including Britain, Germany and China, starting this month for 449 euros ($630) without a SIM card or service contract.

It will not be sold in the United States.

Huawei, best known as a maker of telecom network gear where it competes with Sweden's Ericsson, has become the world's third-biggest smartphone manufacturer behind Samsung and Apple only three years after launching its own branded mobiles and tablets.

Its consumer device business, which accounted for about 23 per cent of sales last year, grew nearly three times faster than its telecom equipment business last year.

Huawei's smartphone success was built on selling mid-priced models in the fast-growing Chinese market as well as appealing to price-conscious consumers in western Europe, but the United States has proven tougher to break into.

Its global smartphone market share grew to 4.9 per cent from 4 per cent in 2012, but still lags far behind Samsung's 31.3 per cent and Apple's 15.3 per cent,
said market research firm IDC.
With the Ascend P7, which succeeds the P6 launched in June 2013, Huawei hopes to create a hit to rival Samsung's Galaxy S5 and Apple's iPhone 5S, said Shao Yang, vice president of marketing for the consumer business.
"We want to provide a premium product but not charge a premium price," Shao Yang said in an interview.
"Our screen, materials, camera, and power consumption are just as good and sometimes better than the Galaxy and iPhone."
The company aims to sell 10 million phones by early next year, compared with 4 million sold to date for the P6.
To that end, it plans to spend $300 million on global marketing this year to improve its brand image.
The P7 is compatible with high-speed fourth-generation mobile networks that have been rolled out by telecom operators in much of Asia and Western Europe.
China and parts of Latin America are building such 4G networks, which allow for at least five times faster web surfing, this year and next.
It has a five-inch touchscreen, as well as an 8 megapixel front-facing camera and a 13 megapixel rear-facing camera designed for low-light conditions.
The 449 euro price tag for the P7 makes it cheaper than Apple's iPhone 5S, which starts at 699 euros in Germany and 709 euros in France.
Samsung's Galaxy S5 costs between 580 and 680 euros in major European markets.