The management plans to invest Rs 27,000 crore in 2019-20, supported by savings of around Rs 14,000 crore that it expects to come from synergising operations of merged entities.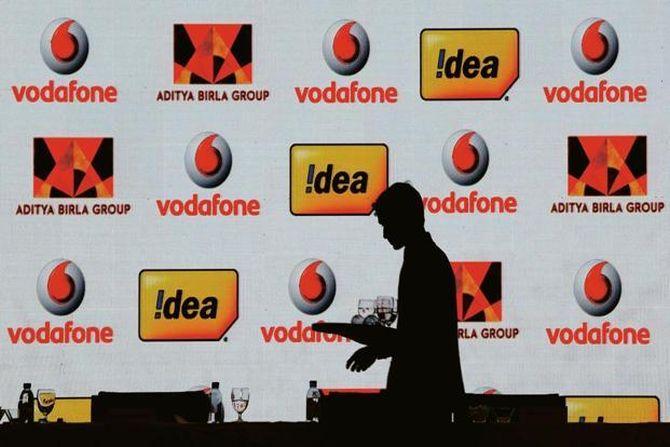 Gearing up to fight rivals, the country's largest telecom player, Vodafone Idea, on Thursday said it plans to retain the best of both Vodafone and Idea infrastructure across markets.
The company will enhance consumer benefits while reducing operational expenses (opex), said a senior official in Mumbai.
Talking to the media for the first time since he took charge as the chief executive officer of Vodafone Idea, Balesh Sharma said the combined entity would embark on tower network rationalisation across geographies and that the current 'unsustainable' market conditions would not last as consumers have the capacity to spend. Tariffs would stabilise, he felt.
Sharma did not explicitly say the average revenue per user (ARPU) would rise despite intense competition among telcos.
Taking a more granular approach (compared to the traditional telecom circles), Vodafone Idea is focusing on integrating the operations across its top performing districts.
Almost 86 per cent of its revenue comes from the top quadrant of 303 districts.
"Ultimately the amount of spectrum determines the kind of customer experience we can provide.
"When we look at India through the prism of districts, we see higher revenues from one out of four quadrants.
"Almost all geographies have both networks and we plan to pick up better of the two networks across locations," said Sharma.
Vodafone has already given up almost 66,000 co-located tower sites.
The strategy now is to also integrate tower sites that may be located close to each other.
For districts in the high-revenue quadrants, the company will seek to retain maximum of these locations, whereas in the lower market share regions, it will vacate maximum towers to optimise costs without exiting the markets, said Sharma.
"We will take out about 10 per cent of the existing 200,000 towers through this initiative - meaning 40,000 more towers than what brand Vodafone subscribers had and 50,000 more towers for Idea subscribers, servicing both 2G and 4G customers without compromising on coverage capacity," said Sharma.
Vodafone Idea has posted a revenue decline of 7.1 per cent sequentially in the September quarter (Bharti Airtel fell 2.2 per cent, while Jio grew 14 per cent), while ARPU dropped 4.5 per cent to Rs 88 and subscriber count reduced 3 per cent (by almost 13 million).
According to the management's new strategy, it plans to invest Rs 27,000 crore in 2019-20, supported by savings of around Rs 14,000 crore that it expects to come from synergising operations of merged entities.
This includes around Rs 8,400 crore in opex and Rs 5,600 crore in capital expenditure, reports suggest.
Meanwhile, the company already has plans to raise the minimum recharge tariffs to improve profitability.
According to the plan, a subscriber will now need to recharge for a minimum of Rs 35 per month for integrated data and voice services in order to keep the SIM card active.
"The new simplified tariff plan gives us a monthly recurring income at a minimum Rs 35 per month (including data services). We believe consumers have the capacity to spend and the tariffs will stabilise," Sharma said.
Vodafone Idea did not give estimates about the likely user base impact due to these "simplified" plans unlike rival Bharti Airtel, which has indicated it has a low ARPU user base of almost 100 million.
Last month, Airtel said it will stay out of the feature phone and 2G customers base competition as it continues to focus on long-term high-end customers during the second quarter results.
Airtel's strategy is to raise minimum ARPU through a revised focus on recharge plans (also starting at Rs 35) as well as the rapid roll-out of 4G sites to address a smartphone-led subscriber base.
"Minimum monthly commitment of Rs 30 (net of tax) may lead to reduction in subscriber base, but it would improve ARPU, revenue, and earnings before interest, tax, depreciation and amortisation at the margin.
"Assuming incremental Rs 20 ARPU from 50 per cent of the customers, it could improve Vodafone Idea's revenue by Rs 50 billion per year," noted HDFC Securities analyst Himanshu Shah.
Analysts say network quality and content offering will be the key differentiators to create subscriber stickiness in the long run. However Vodafone Idea is clearly not worrying too much about the over-the-top content space although it will continue to partner providers.
"We will not try to own the entire value chain. Even if one tries to launch things on their own, to maintain these adjacent services over the long term is onerous. We would rather partner people who do it for a living," added Sharma.
This comes at a time when rival Jio has been aggressively making acquisitions in the content space, including stakes in Saavn and Balaji, while Airtel has partnered Amazon Prime and Hotstar.
Vodafone Idea has partnerships with Amazon Prime and Netflix, among others.
The debt-ridden Vodafone Idea has also advanced its target date to complete integration of Vodafone and Idea Cellular business to fiscal year 2021, from fiscal year 2023.
The advancement will help the company improve cash flow to the tune of Rs 8,400 crore and redeployment of co-located equipment of Vodafone and Idea will help it save Rs 6,200 crore.
Photograph: Reuters