Often described as the Rockefeller of his age, the 51-year-old Jack Ma, who started life as an English teacher, is courted by business tycoons, political leaders and Hollywood stars.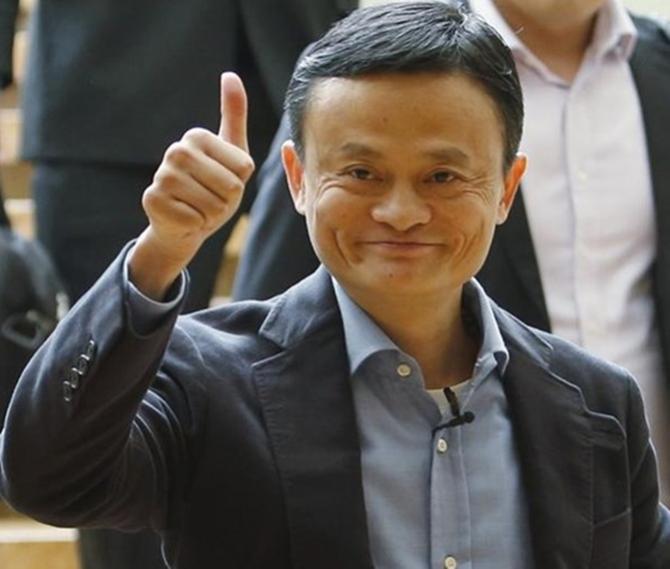 This is not just the story of Alibaba, the Chinese e-commerce major that has outsmarted internet giants and entrepreneurs at home and in Silicon Valley since its inception in 1999; it is also an engaging account of the country's economic restructuring -- from 'a Made in China past to a bought in China present'.
Duncan Clark has drawn on his long experience of China, where he has lived since 1994, his stint as advisor to the company in its early years and his access to the top management to produce this authoritative account.
Mr Clark met Jack Ma a few months after Alibaba was founded in a small apartment in Hangzhou.
As an investment banker, a fluent Mandarin speaker and an internet expert, the writer helped Mr Ma and his right hand man, Joe Tsai (a Taiwanese investor), with the company's international expansion strategy.
But the former Morgan Stanley banker clarifies that this is an independent account since he has never been an Alibaba employee and has no professional relationship with it now.
Often described as the Rockefeller of his age, the 51-year-old Jack Ma, who started life as an English teacher, is courted by business tycoons, political leaders and Hollywood stars.
Shirley Lin of Goldman Sachs, one of the first to back Alibaba, tells the writer about her meeting with Mr Ma in September 1999: "I went up to the apartment, where they were all working twenty four/seven. . .''
She didn't think the ideas were entirely original but it 'was all about Jack and his people,' she says.
Mr Ma and his wife toiled away 'like revolutionary comrades', Ms Lin recalls, and that impressed Goldman Sachs enough to invest $5 million.
Goldman subsequently reduced its investment to $3.3 million and sold out for seven times the value of its funding five years later.
Mr Clark underlines the misjudgement: had Goldman held on till the 2014 IPO -- the world's largest at $25 billion -- the value of its investment would have been more than $12.5 billion.
Softbank founder Masayoshi Son, however, stuck with Mr Ma from the start.
The two were kindred spirits -- "both short in stature and known for their outsize ambitions".
As Mr Ma told the author, "We didn't talk about revenues, we didn't even talk about a business model. . . we just talked about a shared vision."
As for Mr Son when asked by the media at the time of Alibaba's IPO what had prompted him to bet on Mr Ma in 2000, he said, "It was the look in his eye, it was an animal smell… It was the same when we invested in Yahoo. . . I invested based on my sense of smell."
Mr Ma's nose for success encouraged him to master English, a language he happened to love (Mark Twain was a favourite).
Mr Ma's great opportunity came as China reformed its economy and foreign tourists started arriving in larger numbers.
"Every morning from five o clock I would read English in front of the hotel [where tourists from the US and Europe stayed]. . . I would give them a free tour of West Lake and they taught me English.
For nine years! And I practised my English every morning, no matter if it snowed or rained," Mr Ma told the author.
It was a shrewd move.
As he explained later, "English helps me understand the world better, helps me to meet the best CEOs and leaders in the world, and makes me understand the distance between China and the world." Born Ma Yun, he anglicised his name, as many Chinese did at the time, at the request of an American pen friend.
It was his knowledge of English that took him to the US in 1994 and resulted in his first, life-changing exposure to the internet (he was searching -- unsuccessfully -- for Chinese beer).
Although the internet gave him a high, Mr Ma frequently talked about the lack of a tech background. Math was one of his 'earlier foes' -- he failed an entrance exam for higher education (called gaokao), scoring 1/120 in the subject.
He passed on the third attempt -- doing a series of menial jobs in between memorising formulas and equations -- with scores good enough only to make it to the less prestigious Hangzhou Teacher's College. When Deng Xiaoping famously declared that 'to get rich is glorious', Mr Ma and his wife, fellow student Zhang Ying (who took the anglicised name of Cathy), started dreaming of entrepreneurship.
Mr Ma tried his hand at other things first -- a translation agency (called Hope) and an 'uncomfortable' stint with the government.
Alibaba was named after the Arabian Nights character because Mr Ma saw a similarity between the 'open sesame' imagery and his ambition of providing an opening for small and medium enterprises.
He also reckoned it would travel well and starting with the letter 'A' would put it at the top of most searches.

He knew he was late to the portal game dominated by others such as Sina, Sohu, NetEase.
But while others were trying to tap individual users, Mr Ma wanted to stick to what he knew best: small businesses.
As Mr Clark writes, "Jack decided to focus on the shrimp."
Mr Ma's theory, which has made Alibaba bigger than Walmart and Amazon, has been that 85 per cent of the fish in the sea are shrimp-sized.
And the inspiration came from his favourite movie Forrest Gump, where the protagonist makes a fortune fishing for shrimp after a storm.
His challenge now may be coping with Alibaba's undoubted status as a whale in the world of e-commerce.
ALIBABA
The House That Jack Ma Built
Duncan Clark
HarperCollins
264 pages; Rs 599
Image: Youngsters have found a new role model, Jack Ma. Photograph: Reuters