In effect, companies which put their money in telecom in India would have done much better to keep the cash in bank and earn interest.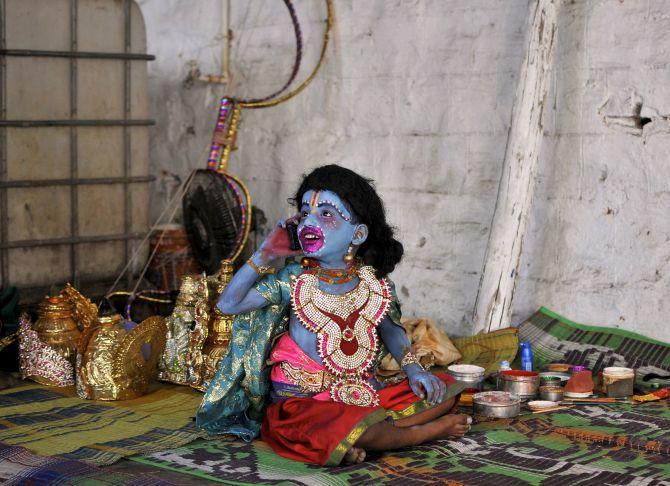 Image: A young artist dressed as Hanuman speaks on a mobile phone before his performance on the occasion of Ram Navami inside a temple in Bengaluru. Photograph: Abhishek N Chinnappa/Reuters

Sistema Shyam Teleservices is expected to get a final nod for its merger with Reliance Communications in a few days.
But this is one merger deal which the Russian company may not like to remember as part of its Indian telecom journey.
Sistema, which launched CDMA (code division multiple access) services under the MTS brand in 2010, had invested over $3.5 billion (Rs 22,750 crore) to set up a pan-India network.
Now, under the deal with RCom, it gets a 10 per cent stake in the company, in return for merging its business along with the valuable 800 Mhz spectrum.
Taking the current market cap of RCom, its shares are valued at only Rs 420 crore (Rs 4.2 billion).
It could get another $200 million (Rs 1,300 crore) from RCom once the spectrum is made contiguous, but that is still uncertain because the Anil Ambani company faces new challenges in its debt reduction plan after its merger deal with Aircel collapsed.
Most foreign telcos, which earlier made a beeline for the high-growth industry, have hardly found any return on India investments.
The process of their exit at a substantial loss is being accentuated by the onslaught of Reliance Jio in the market.
Telenor India is another example of a serious player losing its India investment.
The Norwegian company is estimated to have invested around $3 billion in its India venture.
When it sold its business to Bharti Airtel, which finally got clearance a few weeks ago, it got no cash in return.
Airtel agreed to take over its outstanding spectrum payments of Rs 1,650 crore (Rs 16.5 billion) and obligation of the leases of the towers it owned.
Telenor also agreed to pay back its debts in the company.
The parent company in Norway, meanwhile, took an impairment of over Rs 5,800 crore (Rs 58 bilion) in 2016 on its books after revaluing some of its installations, radio switches as well as licences in India.
Earlier in 2012 too, it had written off Rs 3,500 crore (Rs 35 billion) on account of Indian operations.
The financial mayhem in the sector is reflected in Bharti Airtel CEO Gopal Vittal's recent statement that with an industry debt of Rs 4.5 lakh crore, the return on capital is as low as one per cent.
In effect, companies which put their money in telecom in India would have done much better to keep the cash in bank and earn interest.
Vodafone, the second-largest telco in the country has faced tough times too. Earlier this year, it decided to merge with Idea Cellular and make the combined entity the largest telco in the country.
Over a decade ago Vodafone plc had paid $10.9 billion (Rs 71,000 crore at current conversion rate, but it was around Rs 47,000 crore at 2007 prices when the deal was done) to acquire Hutchison's stake in India, but it took two large impairments on its books - in 2010 of around Rs 20,000 crore (Rs 200 billion) and another just a year ago of Rs 38,400 crore (Rs 384 billion), which is nearly what it paid for the initial acquisition.
In a financial statement last year, Vodafone plc stated it had recorded a non-cash impairment of Euro 5 billion, net of tax, in the period (first half ending September 2016) relating to the Indian business, driven by lower projected cash flows and increased competition (with the launch of Jio). As a result, the UK company's losses soared and it eventually decided to merge its Indian business with Idea Cellular.
Analysts say Vodafone put in around Rs 150,000 crore (Rs 1,500 billion) (which includes cost of acquisition, buying out Essar stake and picking up spectrum and licences) in the country.
And in 2016 it injected fresh equity of Rs 47,700 crore (Rs 477 billion) to expand and take on Jio as well as retire debt.
But its Ebitda in FY17 was a mere Rs 13,115 crore (Rs 131.15 bilion), according to their own declared figures.
Among others losing out in the India market, Malaysian telco Maxis, which acquired Aircel in 2006, has put in over Rs 47,000 crore (Rs 470 billion) till now.
This includes the cost of acquisition from its former promoter C Sivasankaran.
With its adjusted gross revenue for Q1 2017 declining by over 32 per cent due to pricing pressure with the entry of Jio, the group has been looking at ways to get out of the mess, and the proposed merger with RCom was one such route.
But with that deal collapsing, Aircel with a debt of over Rs 15,500 crore (which was reduced by Rs 2,394 crore from sale of 2,300 MHz to Airtel last year) has limited options despite funding support from the promoters.