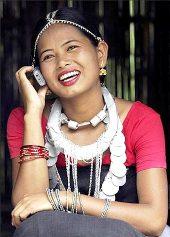 It's hard not to run into some wide-eyed fanatic telling us how mobile will change our lives.
And I am in Barcelona as I write this -- the Mobile World Congress, also called 3GSM, is on -- and the city is positively bursting with mobile fanatics from around the planet.
Yes, I know there are over 500 million mobile subscribers in India -- rather more like 400 million, the rest being either accounting jugglery or the same person being counted twice.
And 5 billion subscribers around the world this year. But where are these users headed? Should you run out now and start a mobile applications company?
Consider this. I had tweeted about my talk, and I've set things up so that I update all streams -- Twitter, Facebook, LinkedIn, Google Buzz and more -- at the same time.
An ex-colleague in New York saw the update on Facebook and left a message there, suggesting a restaurant I should go to for tapas after my talk. I looked it up on TripAdvisor, saw that it had an average rating, and looked for other places with a better reputation.
The one I located on Google Maps was under renovation. So I went back online to find a tapas restaurant which was within walking distance, but it had a menu in Spanish. So I went back to Google again to figure out that a Bombas wasn't a terrorist but actually something quite edible.
In the process, I realised that I hadn't really used any mobile-only applications through the entire process. I had used both devices -- my laptop and phone, but I'd used a set of applications that worked across both platforms, and that were agnostic to what I was using.
The 'platforms' word struck an 'a-ha!' light in me. Mobile was just another platform. Much like CDs came after audio tape, or DVD after VHS. You didn't need a new set of musicians or film-makers for the world of CDs and DVDs -- they simply moved their work to the new platform.
We continue to listen to the bands we love and the directors we like as they moved to new platforms. But as users, we don't really care about what device we are on.
In pretty much the same way, I think the mobile revolution is probably more important for hardware companies because they can make and sell devices in new form factors.
And maybe the operating systems guys -- as they work on different chips and power consumption patterns, and application developers have to port their work to different platforms.
But there's no money in this business as the players are giving it away free.
But if you're one of the millions of start-ups looking to create the next mobile Facebook, or the next mobile Twitter or the next mobile Google, guess what.
They're already there. Facebook is the mobile Facebook. Twitter is the mobile Twitter and Google is the mobile Google.
Doing an application just for mobile is a little like doing a site just for India -- pointless except in very few, very specialised cases.
A Rediff today is a tiny fraction of the size of Yahoo in India; Ebay swallowed Baazee for virtually nothing; and the whole lot of Ibibo, Minglebox, Fropper and BigAdda put together can't hold a candle to what Facebook has done in India with no promotion.
I believe all these mobile walled-garden portals in India from operators like Reliance and Airtel will go the way of AOL -- wither away to nothingness.
The consumer isn't going to want to be locked to your little limited version of the internet when the real one is just a click away. So, to all the companies putting together white-label apps and ringtones for the carriers and unhappy that the carriers aren't giving you enough money for it, here's more bad news:
Your carrier will have even less money to give you in the future.
Your road to long-term salvation lies in building a consumer brand and pull because operators won't have the ability to push things down the throats of the 500 million for much longer.
Meanwhile, data-ready phones are getting cheaper and better, and prices of data plans will fall. And I believe that usage of applications on data will start on familiar grounds for many of us -- that is, the desktop, and from there move out to the mobile.
I'll wrap up now, and go see if I can advance check in online for my flight back. Not sure if I'll use the phone or the laptop for it though!
(The author is the founder of digital brand management firm Pinstorm and Managing Partner at venture capital firm Seedfund. He is on Twitter as @maheshmurthy)
Image: A girl from the Dhimal tribe, one of India's smallest tribal communities, talks on her mobile phone. | Photograph: Rupak De Chowdhuri/Reuters