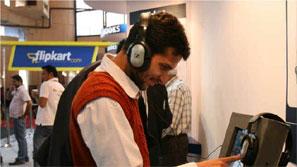 Flipkart, along with global chip maker Intel, is betting big on revival of the tablet market in India as it launches a new range of tablets priced Rs 5,999 onwards under its in-house brand Digivive.

In June this year, the Bengaluru-based online marketplace has jumped into the fiercely competitive smart device market in India by launching its calling tablet for Rs 9,999.

It sells headphones, speakers and pen drives under the DigiFlip range.

Flipkart on Wednesday launched five new tablets in a special collaboration with Intel, which are powered by Intel's Atom processors.

The tablets, priced in the range of Rs 5,999-15,999, are exclusively available on Flipkart and customers can also avail special offer benefits from Myntra and Flipkart on shopping from the mobile apps that come pre-installed on these tablets.

Commenting on the launch, Flipkart VP Retail and Head (Brand Alliances) Michael Adnani told PTI: "We went through a learning curve with our first tablet and also took consumer reviews to decide on the next set of devices.

"The new range is step up on variety and specifications and caters to a range of customer requirements in this segment."

All the tablets are powered by Android 4.2.2 Jelly Bean operating system with an assured upgrade to KitKat.

The screen size ranges from 7-inch to 8.9-inch.

The range includes versions with WiFi as well as 3G and voice calling capabilities.

Intel South Asia Director (Marketing and Market Development) Sandeep Aurora said the Intel Atom processors in the tablets are power optimised for great performance and energy efficiency, ensuring a high speed seamless experience along with great battery life for users who have the need to be constantly connected on the go.

"Intel always strives to bring to consumers the best of computing technology, across form-factors at competitive price points. We are excited to work with Flipkart to launch these five new tablets, powered by Intel processors, which will deliver a compelling mobile computing experience to consumers," he added.

The after sales service for Digiflip Pro tablets will be handled through a network of over 120 service centres in more than 100 cities.

Besides, customers in 13 cities including Delhi, Mumbai, Bengaluru, Chennai, Kolkata and Hyderabad can avail a priority 24-hour service by visiting any of the 22 priority centres that Flipkart has partnered with in these cities, Adnani said.

Along with a hassle free service assurance, Digiflip Pro tablets also come with usual Flipkart benefits like cash on demand and a 30-day replacement policy, he added.