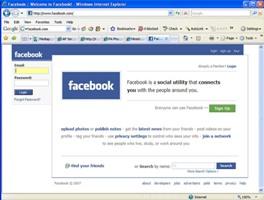 Amid mounting criticism that it is betraying the trust of its users, world's largest social networking site Facebook on Thursday overhauled its privacy controls under which the amount of information that is always visible to others will be reduced.
In an hour-long news conference at its Palo Alto headquarters in California, Facebook CEO Mark Zuckerberg outlined 'a pretty big overhaul' and billed it as a dramatically simpler way for people to control who sees information they post on the online social networking service.
"The number one thing we've heard is that there just needs to be a simpler way to control your information. We've always offered a lot of controls, but if you find them too hard to use then you won't feel like you have control.
"Unless you feel in control, then you won't be comfortable sharing and our service will be less useful for you. We agree we need to improve this," he wrote on his blog.
Facebook unveiled a redesigned privacy settings page to provide a single control for content and 'significantly reduce' the amount of information that is always visible to everyone.
It said it is giving users more control over how outside applications or websites access information at the service.
The changes, to be introduced over the next few weeks, mean that one click can block any third-party sites from tapping into Facebook's data on a user.
A similar one-click option will allow a user to stop applications on Facebook from tapping user information unless told otherwise.
And in a reversal of a confusing feature introduced in December, users will be presented with simpler options on who gets to see information.
"Now we are making it so there is less information that has to be public. People want a simple way to control the way information is shared with third parties, so that is what we are doing," he said.
The announcement was welcomed by US Congressmen.
"I appreciate Facebook reworked its privacy settings, in part in response to the concerns of lawmakers and other users. Like my colleagues, I support an opt-in rather than an opt out process, but it seems the company has come a long way to ease concerns," said senator Mark Begich.
The Alaska Senator was one of the four senators who sent a letter to the company last month asking Facebook to revisit a decision to provide select third party websites with personal information users previously had the ability to keep private.