The increase in bookings has also meant a significant reduction in overall costs for the online travel agencies and a consequent narrowing of losses.
Illustration: Dominic Xavier/Rediff.com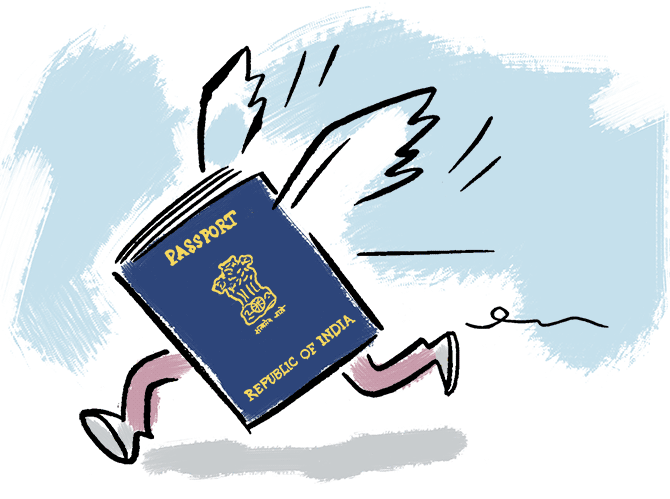 Top online travel agencies (OTAs), including MakeMyTrip, Yatra, and Cleartrip, are set to cross the $10-billion (more than Rs 72,000 crore at current exchange rate) mark in bookings in 2018-19 financial year (FY19).
Every player in the segment is growing at a minimum 20 per cent and some are claiming a three-digit growth.
In the first half of FY19, segment players such as Paytm, EaseMyTrip, and Ixigo are estimated to have clocked travel bookings of about $5 billion (Rs 36,000 crore) as demand for flights, hotels and packages remain strong.
The second half of the year is a stronger travel season owing to festivals and New Year holidays, etc.
Nasdaq-listed MakeMyTrip, the largest player in the segment (which also owns the Ibibo brand) registered bookings of $2.66 billion in the first half of the year, growing over 27 per cent YoY.
"The growth is essentially coming from a significant increase in internet access.
"The highly under penetrated hotels market is opening up and we continue to push for category expansion.
"This growth is highly sustainable and will continue at a similar pace with expansion of the industry and the reach of internet," said a company spokesperson.
Yatra, the second biggest player, is growing at an impressive pace of 30 per cent this year.
In H1, the company clocked travel bookings worth $0.81 billion.
It said growth came from the consumer booking business as well as the strong demand in corporate travel.
Aditya Agarwal, head of corporate strategy at Cleartrip, said smart phones were bringing more people online.
"India is also seeing a change in its travel behaviour with masses taking up air travel and staying in hotels like never before. In general, we see more people wanting convenience in travel bookings," he said.
The average Indian traveller, he said, takes two trips a year whereas in developed countries this average is close to six trips a year, adding that growth is expected to continue.
Ixigo said it would end FY19 with bookings worth $250 million against just $100 million last year.
The OTAs have made attempts to reach out to the masses in smaller towns and rural areas with multiple regional languages.
With less than one-fifth of the hotel bookings coming from online platform there is scope for a substantial growth.
In air ticketing, the share of online is 50 per cent but continues to expand.
Paytm, a recent entrant in online travel, said it is expecting to double the value of bookings in FY19 after a three-fold increase in FY18.
It, however, declined to share the value. It claimed its travel segment's user base has more than doubled to 11 million in the last twelve months.
"A majority of our newly acquired customers have never booked their travel online.
"Our deep penetration in tier II and tier III cities is helping users transition to online.
"Paytm's rapid adoption rates and the current small share of online bookings for categories like hotels and bus tickets leads us to believe there is tremendous room for growth," said Abhishek Rajan, vice-president at Paytm.
Nishant Pitti, CEO at EaseMyTrip, said the main factors driving online travel booking in India were 24x7 availability of booking with complete service support, easy comparison of the price and accessibility of online reviews.
The increase in bookings has also meant a significant reduction in overall costs for the OTAs and a consequent narrowing of losses.
Yatra said it was hopeful of a break even by the first quarter (April-June) of FY20.
It has trimmed its adjusted Ebitda loss by 19 per cent to $3.2 million in the quarter ended September 30 on improved efficiency in marketing spend.
MakeMyTrip is also narrowing its losses this year and the stock has recently attracted a rating upgrade by Goldman Sachs along with an increase in target price by almost 20 per cent to $40.