E-commerce firms Amazon, Flipkart, and others are expected to witness blockbuster festival season sales of around $9 billion this year, surpassing pre-pandemic sales of $5 billion in 2019.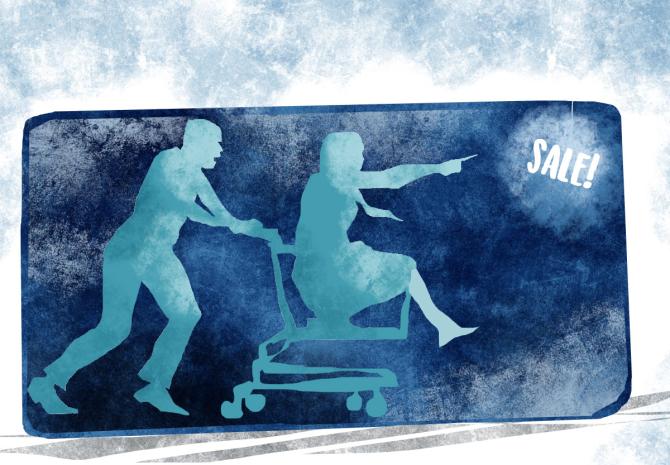 The pandemic has accelerated the shift to e-commerce, with more consumers shopping online at a higher frequency than last year, observed analysts.
This year's festival sales (gross merchandise value or GMV) are expected to grow 30 per cent year-on-year (YoY) to $4.8 billion during the first week of the season and potentially clock over $9-billion GMV during the whole festival month, revealed consulting firm RedSeer's e-commerce festival season report.
This is a 23 per cent increase from last year's forecast, where e-commerce players were ex­pected to clock $7.4-billion GMV.
But this actually touched $8.3 billion last year.
The overall online GMV is expected to touch $49-52 billion, up 37 per cent from last year, primarily driven by strong consumer funnel expansion and higher adoption of online shopping across categories.
"We believe this year's online festival sales will continue to ride on strong tailwinds of greater consumer digital adoption, supported by an increasingly positive macro and consumption sentiment after the Covid-19 second wave," said Mrigank Gutgutia, associate partner, RedSeer.
Last year, India's online festival sales in October-November raked in $8.3 billion in gross sales, up from $5 billion (65-per cent YoY), said RedSeer.
The firm had forecast over $7 billion in sales, but the actual figures exceeded expectations, showing how comfortable consumers had become with online shopping in a pandemic-hit year.
The year's sales growth will be mostly driven by accelerated online adoption. Also, tier-II-plus cities and towns will continue to drive growth since they comprise 55-60 per cent of the total shopper base, similar or higher than 57 per cent in 2020.
Even as offline retail and mobility recovery are at pre-Covid levels, these will impact online sales since customers may choose to shop offline.
"We expect a strong 30-per cent YoY growth in the festival sales week to reach $4.8 billion in GMV, setting the stage for a strong year for e-commerce in 2021," said Gutgutia.
While mobiles will continue to dominate, driven by new launches, electronics is expected to see the second-highest demand, riding on selection, easy payment options and Buy Now Pay Later.
The RedSeer report finds that sellers are bullish on this year's sales and are looking to recoup the losses suffered due to the pandemic.
Nearly 80 per cent of sellers agreed that the festival sales will play a key role in recovery from Covid losses.
Around 70 per cent agreed that the bigger online players have been supportive.
Amazon and Flipkart are strengthening their supply chain networks, with the addition of new facilities.
They are also scaling up their hiring initiatives to meet consumer demand.
Flipkart will kick off the country's festival season with the eighth edition of its biggest flagship event, The Big Billion Days, from October 7-12.
The six-day event will see millions of consumers, sellers, small businesses, artisans, kiranas, brands, and e-commerce ecosystem partners come together.
Today, one-third of all shipments of Flipkart Group are managed by kiranas at the last mile.
According to sources, the company is expecting 90 million shipments.
More than 200,000 truckers would be part of the ecosystem.
Over 100,000 kiranas have been onboarded to reach consumers across cities.
Over 1.5 million kiranas and retailers will be able to avail of credit in just two minutes via Flipkart Wholesale partnership.
Kiranas can avail of credit lines ranging between Rs 5,000 and Rs 3 lakh, with an interest-free period of up to 14 days. Flipkart Wholesale will also be part of this TBBD for the first time as an integrated group.



Amazon has also announced this year's Great Indian Festival sale. According to the microsite published by Amazon, the event will go live around the festival season. The event will allow small and medium businesses to offer a unique selection to customers. Amazon India plans to expand its fulfillment network in India, with nearly 40-per cent increase in its storage capacity over the past year. With this expansion, Amazon will have more than 43 million cubic feet of storage capacity, across 15 states, supporting 850,000 sellers across India.



E-retail has particularly been a boon during the Covid-19 pandemic after setbacks for consumers and small businesses and loss of jobs. In the future, the e-retail market is expected to grow to $120–140 billion by 2025-26, increasing at approximately 25–30 per cent per annum over the next five years, according to the report How India Shops Online 2021 by Bain & Company, in association with Flipkart.