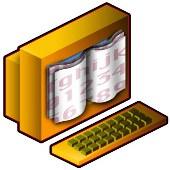 Bookworms warm up to the e-reader, but the device will take a few years to catch on in India.
When Gaurav Mishra, CEO of Delhi-based media consultancy 2020 Social, took a holiday to Miami last year, he spent seven days at the beach reading six paperless books.
This was made possible by the Amazon's e-reader Kindle. "I bought the Kindle last year. When I returned from the US, I was willing to leave behind my collection of 2,000 books, since the e-reader could hold over 300 e-books," says Mishra.
Should you buy an e-reader?
Mishra is just one among many consumers who are happy with their e-reader purchase. An e-reader is a handheld reading device that can store a large number of digital books. A recent survey conducted by market research agency NPD Group claims 93 per cent of e-reader owners are 'somewhat' or 'very' satisfied with the device.
"What I really like about my e-reader is the audio feature. I can just lie back, while a book is read out to me. The fact that the device is so light and easy to carry is also a great motivation. I didn't mind the high cost," confesses Mishra.
According to the survey, 60 per cent users said they liked the wireless feature in e-readers, while 23 per cent liked the touchscreen feature.
So who's buying the e-reader?
Telnet Ventures CEO Hemant Sharma, who has been watching the e-reader market closely, answers: "The device works for those who care about portability, or those who want to appear 'chic' to strangers or associates." Sharma uses a Kindle DX, which serves him well in terms of portability, but he finds the choice of e-books too narrow.
"I will shift to a new device the day there is one that supports night reading and Wi-Fi connectivity," he says.
Thomas Abraham, managing director, Hachette India, has gone in for the first edition of the Sony e-reader. He is "quite surprised with its ease of use." He likes the touchscreen feature and reasons: "What you have gained by losing the touch and feel of a book is the possibility of carrying 30 books at one time wherever you go. I am convinced that the young will take to digital books, but the question is by when? In India, I think the device will take a minimum of 10-15 years to catch on."
Growing, but slowly
Compared with the US and UK, e-readers in India are a relatively new concept. Says Abraham: "There is hardly any growth in India as the device is too expensive, and reading is not a primary habit in India like, say, the way listening to music is.
Right now, Hachette India e-books will be offered from the central digital department in the UK."
Pricing is an issue too. Last month, Amazon and international publisher Macmillan were at odds over pricing of e-books, with MacMillan demanding a higher rate for its e-books.
The two companies are still working out pricing arrangements. Sara Lloyd, director of Digital Publishing for Pan Macmillan, comments: "We look to price e-books fairly, while ensuring we can continue to invest in writers and writing."
Other Indian publishers are, however, looking to price e-books lower than print additions. Chiki Sarkar, editor-in-chief, Random House India, says: "We're just creating a strategy for pricing. But, certainly, e-books will be lower priced than print editions."
Abraham of Hachette India calculates that, for the e-book model to work, pricing has to be plus or minus 10 per cent from the printed book's cost. Hachette India, which has 20 titles, is looking to convert its inventory into e-books.
Need magazines, games. . .
Says Sharma: "Indian readers will be better served if magazines that have a much wider reach than books are available on e-readers and if the device can serve more forms of entertainment, such as gaming and blogging."
The recently-launched iPad from Apple, for example, will be one up on other e-readers. The iPad, which is a tablet PC, can be used for gaming and surfing, besides doubling up as an e-reader.
Vishal Gondal, CEO of Indiagames, which is already developing games for the iPad, says: "Take one look at Facebook and you will know that people love to play games.
So, gaming is going to be a significant area for us and Apple." E-readers, for now, have their own set of drawbacks. Sharma of Telnet points out: "Acquiring new books for an e-reader in India is still not as easy as walking into a bookstore. Also, e-readers like Kindle are not back-lit and, thus, cannot be read in bed at night."
Arguably, e-readers may take a few years to catch on in India, but as Macmillan's  Lloyd puts it: "Many publishers will begin to make all new titles available digitally as a matter of course, and will invest in digitising their backlists."
It may be worth the wait, after all.