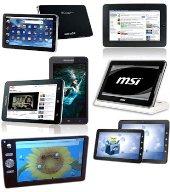 With fierce competition eroding margins in the mobile handset business, home-grown players such as Micromax, Lava and Karbonn are now focusing on the tablet market, following the footsteps of their global peers.

Players such as Micromax and Olive have already launched tablets for the Indian market at a price point ranging between Rs 5,000 and Rs 7,000.

The latest entrant is Karbonn mobiles. Another brand, Lava, will makes it debut in the category this month with the launch of its tablet priced at around Rs 6,000.

The average price points of tablets are better than the handsets and smartphones," says Sashin Devsare, executive director of Karbonn Mobile.

"It helps players improve the bottom lines as well as the top lines." The company on Thursday launched its new range -- Karbonn smart products -- which includes Karbonn Tab 1 priced at Rs 6,990 and smartphones ranging between Rs 5,700 and Rs 9,400.

Players also realise that creating appropriate content for these tablets must also be a strategic focus. "Handset makers cannot treat tablets as a box item like mobile.

"It is a content device," notes S N Rai, co-founder of Lava Mobiles.

"At present, we do enjoy better margins on tablets, but once there is competition, the margins would erode. So, the success of any device will depend on the content the device makers are offering."

Indigenous
players have also started positioning themselves as device and content providers.
For example, Micromax positioned their tablet as an educational tool for students, and had partnered with content providers to offer educational solutions.
Micromax had launched its tablet PC called Funbook in April at a price point of Rs 6,499.
According to CyberMedia Research analyst Faisal Kawoosa, this like other premium mobile brands, is a "natural extension" for the indigenous players.
"Other than Micromax, not all the home-grown players have done good when it comes to cornering market share in the feature-rich phone segment," he says.
"So, it is obvious that they will take the fight to the next level and battle it out in the tablet category."
Adds Vishal Tripathi, principal analyst with Gartner: "The mobile players already had a brand recall, service network and consumer base; so extending their brand was lot easier for them."
According to CyberMedia Research, about 475,000 units of media tablets were sold in India in calendar year 2011.
In the January-March period of 2012, India saw the sales of nearly 3,50,000 units of media tablets.
The country's market has become particularly competitive since 4Q of 2010 when Samsung launched the first tablet model in India. RIM's Playbook, Apple's iPad2, Motorola's Xoom and Samsung's Galaxy Tab 7 are some of the notable MNC tablet brands available in the India market in the high-end range.