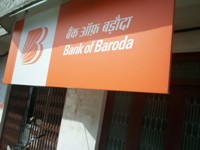 Bank of Baroda on Monday signed an agreement with the Unique Identification Authority of India to act as a registrar for the project.
The bank will join the UIDAI, an ambitious plan to provide unique identification number to all residents of the country, in collecting biometric and demographic details of its customers as well as others.
The details will be collected as per the UIDAI norms.
"Through this memorandum of understanding, the bank will leverage the UID to deepen the reach and ease the process of financial inclusion," Bank of Baroda executive director N S Srinath said.
The Bank of Baroda has more than 3.6 crore customers and is rolling out its financial inclusion plan on a large scale to include 4 million new customers in 20,000 villages across the country, he said.
BoB becomes the fourth bank to have such a tie-up with the UIDAI headed by Nandan Nilekani.
State Bank of India, Central Bank of India and Bank of India have signed similar pact with the Authority.
Earlier this month, the government sanctioned Rs 3023.01 crore (Rs 30.23 billion) for the second phase of the ambitious scheme to allocate unique identity numbers to 10 crore (100 million) people in India.
The estimated cost includes project components for issue of 10 crore unique identity numbers by March 2011 and recurring establishment costs for the entire project phase of five years ending March 2014.
The first set of 10 crore UID numbers are expected to be issued between August 2010 and March 2011.
Thereafter, 600 million UID numbers are expected to be issued within the next three years, said UIDAI Deputy Director General Ashok Pal Singh.
The UIDAI proposes to collect demographic and biometric attributes of residents through various agencies of the central and state governments and others.