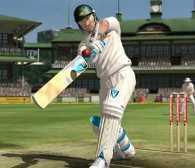 Cricket seems to be the flavour of this season. So much so that when cricket buffs are not watching this sport on TV, they are playing it - on their mobile phones.
Vikram Bhat is one such enthusiast who, like many of his peers, is addicted to the game Ultimate Cricket 11 World Cup on his BlackBerry. The game, which is a paid application in other countries, is freely available for download in India.


Bhat got hooked to Ultimate Cricket 11 World Cup during the World Cup. "In this game you can identify as one of the cricketers and select your own players and make your strategy and even set up the fielding," he says.


Ultimate Cricket 11 World Cup – which lets gamers enjoy real matches from the entire 2011 series – is the most-played game this season, according to mobile data intelligence firm Informate. It is followed by Cricket T20 fever, Cricket T20 world championship and EA cricket.


It's not just games that have caught the fancy of cricket fans on mobile. Nokia's ESPN sports widget app, which it introduced on Nokia N8, was downloaded half a million times during the 45 days when the World Cup and IPL were on.

"Given the time frame, this is a landmark figure. This is the first time Nokia ovi store has reached half-a-million downloads from just one app," the company says in a statement.


Alok Kejriwal, chief executive officer of online gaming company Games2Win, says India's victory in the World Cup has increased  downloads of cricket applications.

"After the World Cup victory, there has been a huge insurgence of arm-chair cricketers. We used to see 1,100 to 1,200 downloads a day and now we see 1,500 to 1,800 downloads," says Kejriwal.


PlayUp, a gaming company that launched cricket apps this season has noticed a similar trend.

"In the first half of IPL, we saw close to 43,000 downloads. The SMS versions of the games see around 25,000 responses per match in the IPL season as opposed to 18,000-19,000 in the World Cup season," says Rajat Kulshrestha, CEO of PlayUP India.


Kulshrestha believes the trend will continue even after the IPL ends. The company is already working on launching its next app for the India, England and West Indies tour in June.

Games2Win, too, has started working on releasing a cricket-based game every month. Kejriwal says the trend will go up because the android platform is showing good signs of uptake. "The challenge is to make simple games that do not use up too much battery on mobiles," he says.


Gaurav Deoras of Pune, an avid gamer, endorses the same thought. Cricket enthusiasts who play the game in real life too prefer games that load easily. "I like games that have good graphics and the touch phone mode," he says.


Experts say the popularity of these games would continue in the cricket-loving nation because they make for good entertainment for the tech-savvy urban youth.