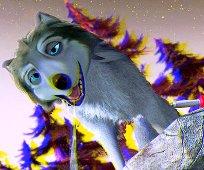 Alpha and Omega, a full-length 3D stereoscopic film produced in India by Crest Animation, has collected $9.2 million in the US in its opening weekend.


It was released in 2,625 screens in the US on Friday and the makers claim it to be the widest release for any animation film from India.


It's their first computer-generated, full-length animation film.


A story about two packs of wolves, Alpha and Omega has been designed and produced by Crest Animation and Lionsgate.


The film had a budget of around $45 million and after its release in the US, Singapore, Russia and the European countries, it will release in India later this year.


It has received mixed reviews from critics.


While the film saw an 80 per cent jump in box-office collections on Saturday over Friday, there was a 33.7 per cent dip on Sunday, according to Boxofficemojo.com.


"The film is a 50:50 deal between Crest Animation and Lionsgate, a Hollywood distributor.


"It is the first time that an overseas distributor has invested half of the money in an animation film produced by an Indian animation company. Alpha and Omega has been made at one-fifth of what a Toy Story or Shrek film would cost," said A K Madhavan, CEO, Crest Animation Studios.


Toy Story 3 was produced at a cost of $200 million and released in over 4,000
screens in the US.
It had collected $110 million in its opening weekend.


Considering that Alpha and Omega has managed to recover around 25 per cent of its production cost through theatrical collections, the film is expected to generate cash profits for its makers.


According to Kagan Research, animated films typically earn one and a half times their worldwide box office revenues through sale of DVDs, pay TV, cable and satellite, and other licensing and merchandising avenues within 12 to 15 months after release.


Madhavan said the film designing and post-production was done in Crest's Los Angeles facility in the US.


"The entire production work of the film from characterisation, modelling, lighting and rendering was done in India.


"It was rendered using the cloud computing capabilities of Eka -- the world's fourth fastest supercomputer developed by Tata Group company Computational Research Laboratories -- and was completed in three years.


Generally, a 3D film of this nature takes around four-five years to make," he said.


Madhavan said Crest was in discussions with distributors in India and the film would be released in both 2D and 3D format later this year.


Crest Animation Studios shares fell by nearly 10 per cent cent to Rs 95.60 on the Bombay Stock Exchange on Monday.