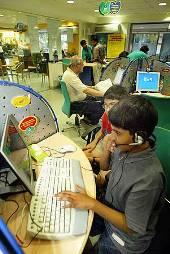 A consortium of the seven Indian Institutes of Technology and the Paris Institute of Science and Technology (ParisTech) have signed a memorandum of understanding to promote institutional and student exchange programmes, besides joint research and continuing education programmes.
The seven IITs are Kharagpur, Bombay, Madras, Kanpur, Delhi, Guwahati and Roorkee and the consortium is headed by IIT Bombay director Devang Khakhar.
Moreover, France-based European Aero Defense and Space Company and India's second largest information technology company Infosys Technologies will each contribute Euro100,000 for the creation of the IITs-ParisTech fund for Science and Technology.
"Of this Euro200,000, Euro17,000 will be for students at the undergraduate and masters' level for travelling back and forth between India and France for short term. Rest of the money will be for students to join PhD research either in India or France,"
said Khakhar.
He said 20 students were expected to move back and forth each year and the new IITs would be roped in for the project over time.
The MoU also provides the opportunity for IITs and ParisTech to collaborate and participate in the European Commission initiatives such as the Erasmus Mundus, External Cooperation Window by partnering with other interested institutions.
Earlier, senior officials from both countries discussed in detail and finalised the draft MoU on IIT-Rajasthan that would facilitate a French Consortium to academically and scientifically accompany the institute to develop in areas where France possesses considerable expertise.