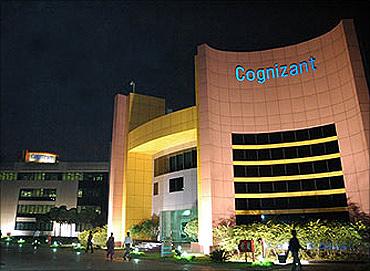 IT services major Cognizant on Monday said its net profit has increased 9.7 per cent to $382.9 million for the quarter ended March 31, 2015.
This is against a net profit of $348.9 million in the first quarter of 2014.
The company's revenue grew 20.2 per cent to $2.91 billion in the reported quarter from $2.42 billion in the year-ago period, higher than its guidance of $2.88 billion.
"Our strong revenue performance this quarter versus our guidance was driven primarily by organic growth of our core businesses and is a reflection that our strategy and offerings are resonating with our clients," Cognizant chief financial officer Karen McLoughlin said.
In addition, we are pleased to increase our full year revenue and EPS guidance to reflect the over-performance during the first quarter, she added.
Buoyed by the strong set of numbers, the US-based firm expects its revenues to be at least $3.01 billion in the April-June 2015 quarter.
It has also increased its revenue forecast for fiscal 2015 to be up at least 19.3 per cent to $12.24 billion from its earlier forecast of at least 19 per cent growth ($12.21 billion) compared to 2014.
Cognizant said it has added about 6,200 people (net) in the quarter under review.
"The clients we serve are experiencing tremendous change in their businesses and are increasingly turning to Cognizant to navigate that change," Cognizant chief executive officer Francisco D'Souza said.
The investments the company has made in digital, automation, utility-based delivery models, consulting and industry-specific expertise are clearly paying off, he added.
"The shift to a digital enterprise is driving greater demand for our traditional services and solutions as clients find the need to keep pace with the speed and scale of
innovation and maintain their competitive advantage," Cognizant President Gordon Coburn said.