Its market capitalisation tops those of the 3 largest Indian firms combined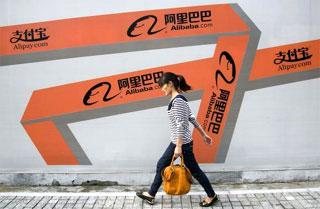 By the time trading on the New York Stock Exchange ended on Friday, the market capitalisation of Alibaba Group Holdings topped $231 billion, making it one of the most valuable companies in the world.

The Chinese giant also dwarfs all Indian listed companies by value. In fact, it is worth more than the combined market capitalisation of Tata Consultancy Services (TCS), Oil and Natural Gas Corporation (ONGC) and Reliance Industries Ltd (RIL) — the three largest listed Indian companies by market capitalisation, according to Bloomberg data.

In terms of market capitalisation, TCS tops the list of Indian companies, at Rs 5.3 lakh crore. While ONGC is second (Rs 3.46 lakh crore), RIL, with Rs 3.22 lakh crore, is third. As such, the combined market capitalisation of the three stands at Rs 11.99 lakh crore.

With the rupee at 60.83 to the dollar, Alibaba is worth Rs 14.07 lakh crore.

Through its initial public offering, the company raised $21.8 billion. This has made the stake of its founder Jack Ma worth about $14 billion.

According to Bloomberg data, the Alibaba stock rose 38.07 per cent to close at $93.89 on its trading debut. This makes the company's size about five times
that of ITC, about six times the size of Coal India, and about eight times the size of HDFC.
Had Alibaba been listed in India, it would have been the second-most profitable company among the top 10 on the market-capitalisation list. For the year ended March this year, its net profit stood at $3.8 billion, or Rs 23,271.12 crore (Rs 132.71 billon). This would be second only to the profit of ONGC, which recorded a net profit of Rs 26,506.53 crore (Rs 265.06 billion). For the same period, RIL's net profit stood at Rs 22,493.00 crore (Rs 224.93 billion). At the bottom of the list is HDFC, which makes only a third of Alibaba's net profit.
In terms of revenue, Alibaba would be ninth on the list, with Rs 52,207 crore (Rs 522.07 billion), behind RIL, State Bank of India, ONGC, TCS, ICICI Bank, Coal India, HDFC Bank and HDFC. It would be only marginally ahead of Infosys's Rs 50,133 crore (Rs 501.33 billion) in sales. While RIL's revenue is about eight times that of Alibaba, State Bank of India has about six times its revenue, while ONGC has thrice the number.
The volumes of four other companies ahead of Alibaba on the list are 20-60 per cent higher.
According to Bloomberg estimates, Alibaba's revenue is expected to grow about 30 per cent annually through the next two financial years. By comparison, Sensex companies are expected to grow 11 per cent, according to Bloomberg estimates for the next financial year.