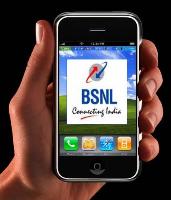 Telecom major Bharat Sanchar Nigam Ltd has finalised a war chest of Rs 14,000 crore (Rs 140 billion), one of the largest investments by the corporation in a single financial year, to defend its market share.
Half the money, to be invested over the next 12 months, will be used to expand its mobile network.
This includes creating capacity for 20 million additional customers, doubling third generation service coverage from 366  to 760 cities by the end of the next financial year and creating capacity to almost double its broadband subscriber base from 3.5 million to 7.5 million in the same period.
BSNL is India's fourth largest mobile service company in terms of number of subscribers with a 12 per cent market share. In broadband, it is the undisputed leader with a 60 per cent market share.
"Our main aim is to maintain our market share in the mobile space especially as there are now 13 or 14 players in the market," BSNL chairman Kuldeep Goel told Business Standard.
"We are concentrating on the domestic market, which is why we have also decided to go slow on our plans to go global."
The corporation recently exited a consortium set up to bid for the African assets of Kuwait's Zain Telecom. Last week, the west Asian company signed a deal with Bharti for its assets in 15 African countries.
Goel has also drawn up an aggressive 3G roll out strategy to leverage its first-mover advantage. The company, together with Mahanagar Telephone Nigam Ltd, state-owned telecom service provider for Mumbai and Delhi, was given spectrum for 3G services over a year ago. Auctions for 3G for the private sector will begin in April and spectrum will be given to them in September.
"We have 1.5 million 3G customers out of our total subscriber base of 60 million. Our target is to get 5 million 3G customers by the end of the next financial year. We expect 5 per cent of our total user base to come from 3G initially. This percentage may go up to 10 per cent later," he added.
Asked how BSNL would raise resources for such a large investment, Goel said: "We are a debt-free company with reserves of over Rs 35,000 crore (Rs 350 billion)." 
It also plans to contain costs by making a fundamental shift in its procurement policy. Instead of following the decades-old system of ordering and buying a fixed number of mobile lines, BSNL recently floated a request for proposal for a 'managed capacity' model, which means outsourcing its network operations and management like private competitors do.
The new contracts will be for a duration of two to three years.
The change has been prompted by recommendations from the Sam Pitroda committee to scrap a 93 million line GSM order due to various controversies.
The BSNL board has accepted the recommendation.
Ahead of the new contract, the company has also prepared a contingency plan to meet its immediate need for new capacity.
It will issue an additional order of 5-10 million lines to Ericsson, its current vendor, which has supplied equipment in the north and east. In the south and west, the company has 20 million lines under installation, which is considered sufficient to meet demand for the next 12 months. 
Goel admitted, however, that the company might slip into the red this year on account of  arrears on wages that have been raised.
"We had a net profit of Rs 175 crore (Rs 1.75 billion) for the half-year ended December this year and were expecting profits of Rs 200 crore (Rs 2 billion) to Rs 300 crore (Rs 3 billion) at the end of the financial year. If we have to pay arrears on wages, which comes to around Rs 3,700 crore (Rs 37 billion), we will surely make a loss this year." 
He also admitted that profits have been impacted by a drop in wireline revenues.