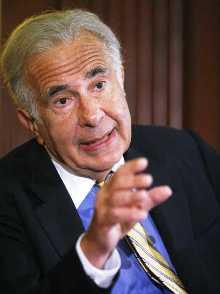 Billionaire investor Carl Icahn said on Wednesday that he has filed a shareholder proposal with Apple for a much smaller stock buyback plan than he has advocated previously, as he continued to pressure Apple to share more of its cash pile.

"Gave $AAPL notice we'll be making a precatory proposal to call for vote to increase buyback program, although not at $150 billion level," Icahn said in a tweet.

CNBC said Icahn's plan calls for a $50 billion buyback program.

Icahn had been urging Apple to buy back $150 billion worth of shares. Icahn owns approximately 0.5 percent of Apple's outstanding shares, according to Thomson Reuters data.

Icahn on Tuesday told Time magazine that he filed a shareholder proposal with Apple on November 26, three days before the deadline for measures to be voted on at the company's next annual shareholders meeting.

"As part of our regular review process, we are once again actively seeking our shareholders' input on our program, and as we said in October, the management team and our board are engaged in an ongoing discussion about it which is thoughtful and deliberate," Apple spokesman Steve Dowling said.

"We will announce any changes to our current program in the first part of calendar 2014."
Image: Carl Icahn