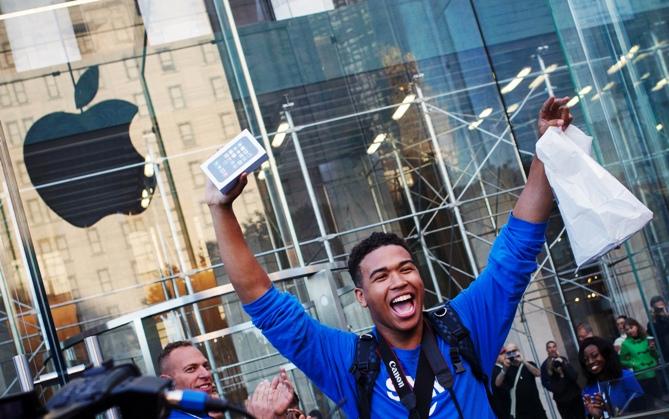 Apple Inc's planned video streaming service may not be a tough sell for media companies who could be enticed by the company's ubiquitous iPhones and iPads, which represent a new stream of growth for an industry losing viewers.
Rising mobile viewership, and faster and more reliable mobile networks are paving the way for online TV subscription services to go mainstream in the near future.

Add in a gradual decline in cable users in general and it offers a compelling opportunity for media firms to take notice.
The Wall Street Journal on Monday reported that some broadcasters are in talks to sign on to a new Apple service. Such talks have been reported for years, but the Journal said that Apple hoped to launch in the fall. Apple and the networks declined to comment.
Viewers have grown comfortable with online streaming because of Netflix Inc and Amazon.com Inc's Prime, and traditional media is following suit with Sony Corp preparing a Web TV service, and satellite operator Dish launching its own version, called Sling TV.
But an Apple offering may be able to provide viewers something traditional cable and satellite distributors cannot: a huge user base and the ability to work in concert with smartphones and tablets.
"The time is right," said BTIG analyst Walter Piecyk. "Holding the screen in front of you is an experience that a new generation is growing up with."
And cable "operators by not developing their own technology fast enough have really left the door open for Apple not only to provide a lower-cost solution that has greater functionality, but that's easier to use when on the sofa looking at the 50-inch."
Apple offers roughly 100 million active iPhone users in the United States alone, by some estimates. Although there is certainly overlap, that's roughly the same size as the U.S. pay television market.
By comparison, there are only 10 million broadband subscribers in the country who do not have pay television said Bernstein analyst Toni Sacconaghi. That smaller group, often seen as the prime target for Web TV, may not be seen as significant enough for some content companies.
"Risking revenues on the former group to attract the latter is likely bad business, unless the content providers believe that the former will inevitably decay," he said.
"These issues are real and likely the biggest stumbling blocks to an Apple television service."
However, analyst Craig Moffett says that broadcasters and cable channels see the writing on the wall, since pay TV subscription growth has been stalling for years.
"There is now real economic pressure on the model. The old way of doing business isn't working any more. For the first time the media companies feel compelled to experiment," said Moffett, of Moffett Nathanson Research.