Tech major is in discussion with film-makers, sport administrators to enter the fast-growing sectors.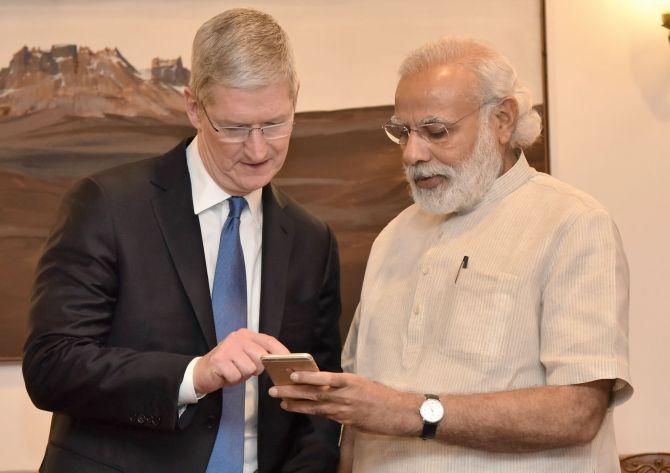 IMAGE: Apple CEO Tim Cook instructs PM Modi on the use of the new features in the updated 'Narendra Modi App'. Photograph kind courtesy: Press Information Bureau
Apple Inc is actively discussing business alliances with the entertainment sector as well as with cricket administrators in India.
However, the Cupertino-headquartered multinational is yet to take a call on setting up fully-owned stores in India as it studies the new policy norms on mandatory sourcing from the country.
In May, Apple Chief Executive Officer Tim Cook came to the country on a four-day visit.
He spent much of his time here with prominent film-makers and actors. Cook even flew to Kanpur to catch an Indian Premier League (IPL) match and talk to key officials connected with cricket administration.
It's important for Apple to have an understanding of film and cricket worlds, as those are the two revenue drivers in India, according to analysts.
Apple is exploring multi-billion business opportunities in content creation and original programming for the Indian entertainment world, projected to cross the $40-billion (Rs 2.7 lakh crore) mark by 2020 from the current $25.13 billion (Rs 1.6 lakh crore).
PricewaterhouseCoopers (PwC) in its outlook for 2016-2020 said India's film and entertainment industry was set to grow at an annual average rate of 10.3 per cent in the next four years, against 4.5 per cent globally.
That is expected to make it among the top 10 in the world.
Apple's India plans could be similar to the media content prospects that it is eyeing in Hollywood.
As iPhone sales have slowed in the US, Apple is looking at other areas of growth.
Film-maker Mukesh Bhatt, who had met Cook in May, said it was early to give a timeline for a business venture because multinationals take time before signing on the dotted lines.
"A road map is being created for Apple in the Indian entertainment world,'' Bhatt told Business Standard. While specific details of the business are being discussed, those were confidential, he said.
Recent international reports pointed the iPhone maker wanted to get into media content.
The reports said Time Warner, which owns HBO and the Warner Brothers studio, is among the media companies that Apple might like to buy.
In India too, acquisition and merger deals are likely between Apple and entertainment majors as streaming original content on mobile phones and live TV through the internet become mature businesses in this country.
Cricket is another area where Apple is looking at to grow its revenue.
Last year, the brand value of IPL, a league started in 2008, alone was estimated at $4.5 billion (Rs 30,150 crore) by American Appraisal, a division of Duff & Phelps.
Rajeev Shukla, chairman, IPL, said, "Junior cricket requires a lot of technology. We are looking at that area with Apple."
The tech company could offer futuristic educational tools for young cricketers to start with, a person in the know of things said.
The Board of Control for Cricket in India (BCCI) is believed to be working on a blueprint to improve the quality of junior cricket.
Even as Apple is making efforts to enter newer areas of business, it is focused on growing its core business of iPhones in the country.
Recently, market estimates showed a 56 per cent year-on-year growth in sales of iPhones in the country, giving bestseller Samsung plenty of competition.
In terms of market size for devices priced over $300 (Rs 20,000), Apple rose to 29 per cent in the beginning of 2016 from 11 per cent in the first quarter of 2015, according to estimates from research company Canalys Mobility.