Country's fourth largest software services company HCL Technologies on Thursday announced the appointment of Anant Gupta as its new CEO, replacing industry veteran Vineet Nayar.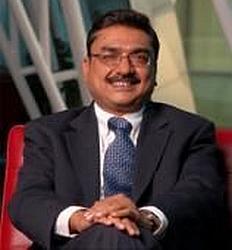 Gupta was earlier serving as the president and chief operating officer.

Nayar, meanwhile, will continue as the vice chairman and joint managing director of the company till July 2013 and vice chairman thereafter.

"Vineet Nayar continues to mentor our leadership. He will be involved in key client relationships, a role he has been playing for the last six months," Gupta, who continues to hold the position of company president, told reporters.

Gupta, 44, was named HCLT president last year and has been considered a likely successor to Nayar. He has been with the company for 19 years and is credited with building its infrastructure vertical, which is now worth over $1 billion business.

Speculations about Nayar's exit gained momentum after he sold his entire stake in the company
in June last year. He held about 27 lakh shares (2.7 million), which he sold for Rs 133.58 crore (Rs 1.33 billion).
The change will mark the latest instance of senior level shuffle in the $100 billion Indian IT-BPO sector.
HCLT's larger peers TCS, Infosys and Wipro have all got new CEOs in the past three years. While N Chandrasekaran took over as TCS Chief in October 2009, S D Shibulal took over the reins of Infosys in August 2011.
Similarly, T K Kurien assumed the role of Wipro's IT business CEO in February 2011, taking over from joint CEOs Suresh Vaswani and Girish S Paranjape.
In October, TCS and Infosys announced changes at the CFO level as well. TCS' Mahalingam will see Rajesh Gopinathan succeed him in February, while Infosys finance team is now being headed by Rajiv Bansal.
HCLT has also appointed S Madhavan as additional director on the company Board with effect from January 15, 2013.
With addition of Madhavan, the total Board strength of the company has increased to 10 directors, including eight independent directors.