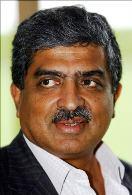 The 'Aadhar' unique identification number will enable inclusive growth and development for the deprived and will act as an instrument of social inclusion, UIDAI chairman Nandan Nilekani said.
He said there is no fear about any privacy issues with regard the UID databank as it will store only very limited information.
"The only service that we give is authentication," Nilekani said at the annual Rajinder Mathur memorial lecture organised by The Editors Guild of India.
He said the UIDAI has an inbuilt security and privacy component that ensures that the data from the data bank could not be accessed except on grounds like national security.
To questions, he said the issue of privacy needs to be seen at in a holistic manner in the age of technology. Nilekani said a draft legislation for privacy law is available online for which public comments have been sought.
He said the Aadhaar number will be helpful in opening a bank account, passport and ration card and many other things especially for the poor and the migrant labourers.
The UID number, Nilekani said, will help people in getting essential services like PDS, bank account, LPG connection and jobs in new places.