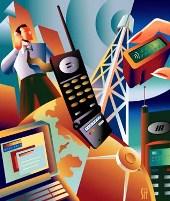 The 2G spectrum allocation issue was raised in the Lok Sabha today amid Opposition demands that Prime Minister Manmohan Singh clarify the matter as the alleged scam was the biggest and involved Rs 1 lakh crore (Rs 1 trillion).
The issue was raised by Janata Dal (United) chief Sharad Yadav who alleged that the government lost as much as Rs 1 lakh crore (Rs 1 trillion) because of 'wrong policies' of the telecom department while Communist Party of India-Marxist leader Basudeb Acharia dubbed it as the 'biggest scam'.
"There is no other example in contemporary world history of a fraud of such a huge magnitude", remarked Yadav claiming that this could be gauged from the fact that certain decisions were taken in spite of caution from the law ministry, telecom secretary and finance secretary.
The Congress sought to counter the charges with party members Manish Tewari and Sanjay Nirupam alleging that in the National Democratic Alliance government there was a scandal of Rs 60,000 crore (Rs 600 billion) in the telecom sector.
Yadav said the Tata Group, whose name has figured in reports that a corporate lobbyist was involved in alleged multi-crore scam over allocation, has come out publicly with its position. But "there is no statement from the government.
"Only the Home Minister P Chidambaram has made some wishy-washy statement (on telephone tapping) which can be interpreted either way. Why can't the government come out categorically", he asked, seeking a clarification from the prime minister.
Alleging that 'first-come, first-served' concept was aimed at opening the floodgates of corruption, he wanted to know why the government went ahead with allocation of 2G spectrum despite advice against it by the law minister and top officials. Yadav said "when the Union Cabinet was being finalised, why did the Tamil Nadu chief minister, a good friend of mine, leave Delhi in a huff?"
This statement prompted DMK members to rise on their feet in protest, forcing Yadav to relent.