TCS is tapping an emerging opportunity called IT modernisation, which potentially could be a growth driver for the entire IT services industry for the next two to three years, says Raghu Krishnan.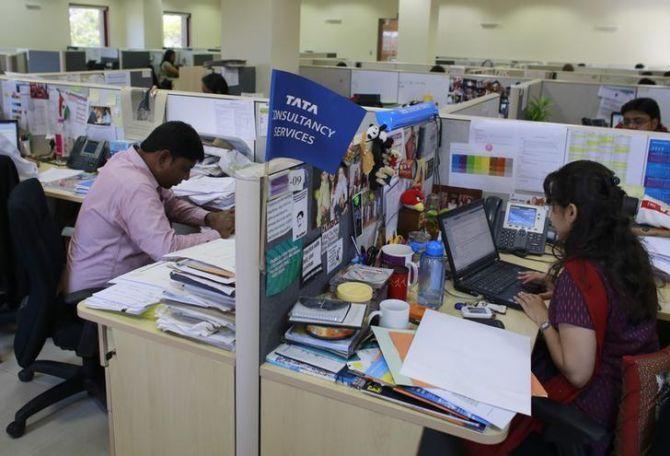 Every super critical boiler in thermal power plants need to be fine-tuned annually to meet safety and attain maximum efficiency.
The 12-14 days time taken for each boiler to be fine tuned or synchronised also means that the system is shut for power generation resulting in millions of dollars of lost revenue for the utility operator.
Tata Consultancy Services (TCS) came with the answer that helps cut the time taken to synchronise a boiler in three to four days, a third of what it used to take Japan's Mitsubishi Hitachi Power Systems (MHPS).
It captured data through sensors on the boilers, used the algorithm built in-house to check nearly 240 parameters and over 10,000 combinations to tune the boiler.
"The loss during each idle day is $3 million," says Milind Lakkad, executive vice-president and global head, manufacturing at TCS, India's largest software exporter. "This was a big success story in Japan."
Lakkad's team helped a global heating, ventilation and air conditioning (HVAC) firm bring down the time taken to design an AC solution for a building or an office to two hours from the earlier nine days, helping it engage better with its customers.
Last month TCS signed a five-year deal with Rolls Royce to use its platform and jointly work with global engine maker to look at harvesting data, use analytics to do preventive maintenance of marine and aero engines and eventually design them faster.
"When we do support work, we either do it or look at continuous improvement and be a transformational partner for our customers," says Lakkad.
The culture shift happened seven to eight years ago, he adds.
And TCS is now taking this model to most of its customers, telling them that it would disrupt the way they deliver services, which includes cannibalising its revenue and its people.
It has seen some takers among its over 800 clients.
TCS, analysts say, is tapping an emerging opportunity called IT modernisation, which potentially could be a growth driver for the entire IT services industry for the next two to three years.
"TCS is taking aim at this new development and has developed some clear road maps, products and services to help clients with this. Furthermore they have reorganised their IT services delivery groups to be able to drive this work," says Peter Bendor-Samuel, founder and CEO of Everest Group, a global technology researcher.
"They are early in identifying this trend and hence not every company is taking them up on this offer."
The Indian IT services firm also agrees.
A few clients have been open to the idea, but there are others who are on wait and watch mode.
The success of the first few clients would help them shift to the new model, which TCS says, is necessary or the company would potentially lose them to other disruptors.
"Some people are cautious, some are optimistic. It is a mixed bag. But as I said you got to be proactive in terms of going and articulating the proposition," says N Ganapathy Subramaniam, chief operating officer at TCS.
There is a reason why the Tata Group firm is adopting this position. Globally, traditional outsourcing business is being disrupted with clients drastically cutting down their budgets on such services and shifting their spend on newer areas such as digital and cloud.
However, TCS and other Indian IT services still earn three-fourths of their revenue from traditional services.
If they have to keep pace with the changing shifts in technology adoption, their business model has to change.
So, TCS says it has already begun the change before other nimble players take over business with newer models.
"There is no fun in going and saying that I can do it with 10 people. Instead you say that you are spending so much on me right now and allow me to automate and I will do it as a managed service," says Subramaniam.
"And no deterioration of SLAs, it will only improve and this is the price. And you pay me at results."
TCS already earns nearly half of its revenue from fixed price projects, which allows it the flexibility to determine the resources it deploys and use software tools to deliver services.
It says the aim is to increase that goal by reducing the dependency on people and more on software led services. This will also lead it to generate more business.
"The industry has a potential to grow a lot more. We have to free up the capacity and we have to make sure the capacity is used meaningfully. And we are in the discovery phase both from the client side and the IT industry side.
"We are discovering the ways of doing the right way," says Subramaniam.
"You have to develop a Java code, we all know how it should be done.
"But if we have to generate the Java code completely and do not do it manually, so we have to learn how to do it."
This, TCS says, will help it to be a company that not only builds software but the one that can write software as well.
Photograph: Danish Siddiqui/Reuters
-------------------------------------------------------------------------
How TCS plans to generate more business
TCS will not only build software, but write it also