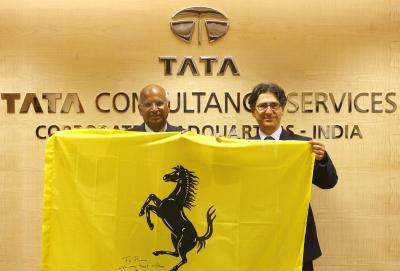 Software major Tata Consultancy Services on Tuesday said it has entered into an agreement with Scuderia Ferrari to provide entire software to the Italian automaker's Formula One cars.
"We will provide whole range of software requirement of the F1 car of Ferrari. This is a prestigious feat for us since the precision is very high, " TCS chief executive officer S Ramadorai said.
From car electronics to safety, aerodynamics to trouble-shooting, TCS will work with the Ferrari F1 team to provide IT-based solutions before, during and between races, he added.
The two companies had in 2004 entered into an agreement, under which it will provide IT and engineering services and assist the development of F1 racing cars and Ferrari sports cars.
Ramadorai said the company has already put in place a specialist team of 40 professionals to continuously monitor the project in Italy.
"Auto and aerospace form an important vertical in the company's engineering software division," he said. He said the engineering software division contributes almost six per cent of its total revenue and almost 18 per cent of that comes from aerospace sector. -- PTI
TCS CEO S Ramadorai and Ferrari CIO Antonio Calbrese hold a Ferrari Flag as they pose for photographers at a function in Mumbai on Tuesday.
Photograph: Sajjad Hussain/AFP/Getty Images