Tata Group firm Indian Hotels Company (IHCL) on Friday said it is reviewing the rejection of its takeover bid by the luxury hotels chain Orient-Express (OEH) board and is considering their options with respect to their offer to acquire OEH.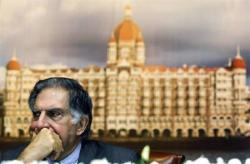 "Indian Hotels and Montezemolo & Partners on behalf of Charme II Fund today (on Friday) acknowledged the recent announcement by OEH (of rejecting its takeover bid), and are reviewing the position taken by the OEH board and are considering their options with respect to their offer to acquire the hotel," IHCL said in a statement.

Shares of IHCL, after rising over 3 per cent in morning trade, pared gains to close at Rs 63.65, almost flat over yesterday's (on Thursday) close.

Orient Express yesterday rejected the "unsolicited" $1.86-billion buyout offer by the Tatas, saying the bid significantly undervalues the New York-based company.

"After thorough consideration, and in consultation with independent financial and legal advisors, our board has unanimously concluded that your proposal significantly undervalues Orient-Express and its future prospects," Orient Express chairman J Robert Lovejoy said in a letter to Indian Hotels Company vice-chairman
R K Krishna Kumar.
Indian Hotels had offered $12.63 per share in cash to acquire all the outstanding shares of Orient Express. This was at a 40 per cent premium to the luxury hotel chain stock price on October 18.
This was the second takeover attempt by Indian Hotels, which already holds about 7 per cent in Orient Express.
The offer "significantly undervalues" the company and its unique assets and is not in the best interests of the shareholders, Orient Express had said.
Indian Hotels had earlier termed its all-cash offer as "compelling". IHCL along with Charme II Funds, founded by the family of Ferrari chairman Luca Montezemolo, had made an all-cash offer to acquire the outstanding 93.1 per cent stake at $12.63 per share.
In 2007, Tatas had attempted to increase holding in the US entity but the efforts failed due to stiff opposition from the then management of Orient Express.