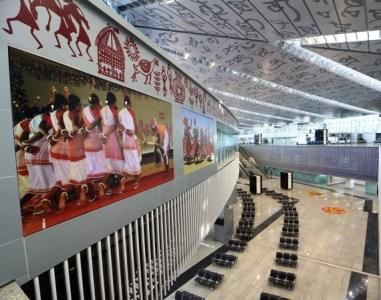 Nine private firms, including Tata and Adani groups, have shown interest in operating, managing and developing four state-run airports in the country, official sources said.
Other interested players include GMR, GVK, Essel, Siemens, Flemingo, IBDF Zurich and Cochin International Airport.
Thousands of Airports Authority of India employees meanwhile staged demonstrations at airports across the country on Wednesday to protest against the government's attempt to privatise Chennai, Kolkata, Jaipur and Ahmedabad airports, in which AAI has already invested Rs 5,000 crore (Rs 50 billion).
Its employees' union has also warned the government of blocking airports if it does not drop its plan.
"As many as nine players including the international companies have shown interest in the modernisation of the four airports for which the AAI had invited Request For Qualification early last month," said a source.
AAI had invited RFQ for the operations, management and development of Kolkata, Chennai, Jaipur and Ahmedabad airports in January after the government changed its stance and decided against full privatisation of airports.
Sources said GMR Airports, GVK, Tata Realty, Essel, Adani Ports and special economic zone, Siemens Postal Parcel and Airport Logistics, International Business Development Flughafen (Zurich), Flemingo Duty Free Shop Pvt Ltd and Cochin International Airport have shown interest in taking part in the modernisation of these airports.
Sources also said that the private players have sought from AAI longer concession period than the 30 years as stipulated in the RFQ besides traffic growth and tariff projections.
"Some of the interested firms want AAI to make prior airport experience mandatory before taking a final call," said a source.
Earlier, the United Progressive Alliance government had proposed to privatise six airports -- Chennai, Kolkata, Ahmedabad, Jaipur, Lucknow and Guwahati -- but the plan failed to take-off during its tenure.
Taking the previous government's agenda forward despite a stiff opposition from the AAI union, the new National Democratic Alliance government had said it would privatise only Ahmedabad and Jaipur airports and not hand over Chennai and Kolkata airports to the private corporates as it has already invested public money to the tune of Rs 5,000 crore (Rs 50 billion) in their modernisation and upgradation.
In a departure from its stand, the government has decided to go ahead with the privatisation of the four airports.
It, however, left out Guwahati and Lucknow airports from the agenda as these loss-making airports do not have enough volumes to attract private players.
Airports Authority Employees Union general secretary Balraj Singh Ahlawat, who led the demonstration at AAI headquarters here, said: "The government, rather than asking the private corporates to develop greenfield airports, is giving away its own airports to them on a platter.
"We will not let it happen."
He said the private players are eyeing only those airports which are 'revenue generating' for the AAI.
Image: The new Kolkata airport. Photograph: Abhiroop Dey Sarkar/Rediff.com