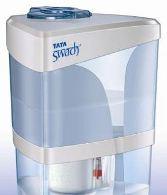 Keeping an eye on the common man, Tata on Thursday launched two new variants of its water purifier 'Swach' in the North-Indian market, with the low-end version quoting a rock-bottom price of just Rs 499.
After launching water purifiers priced at Rs 999 in Maharashtra last year, group company Tata Chemicals on Thursday introduced two new variants -- Swach Smart and Swach Smart Magic -- at Rs 749 and Rs 499 respectively.
In 2009, the group had launched the Nano -- the world's cheapest car -- at a price tag of less than Rs 1.5 lakh, giving many Indians the chance to own an automobile without burning a gaping hole in their pockets.
"We are selling 20,000-25,000 units in two states (Maharashtra and Karnataka) already, and with the product launched in the North we are expecting to do better," Tata Chemicals Managing Director R Mukundan said.
He said the company aims to sell one million units of Swach water purifiers in the current fiscal.
"We have a target of selling one million water purifiers in the current fiscal," Mukundan said, adding that Tata also expects the water business to contribute over Rs 100 crore (Rs 1 billion) to its topline.
The company is also looking at expanding its water filtration segment by increasing the manufacturing capacity through the addition of another production line. "The production line is proposed to come up in Haldia in West Bengal," Mukandan said, declining to give further details.
He said that the company has earmarked a budget of Rs 50 crore (Rs 500 million) for its water filtration business and, out of this, around two-third has already been spent.
Last year, Tata Chemicals announced its foray into the water business with the launch of 'Swach' at Rs 999.