Tata Coffee Ltd, a subsidiary of Tata Global Beverages Ltd (TGBL) and India's third largest exporter of instant coffee, is embarking on a major expansion programme for its US subsidiary, Eight O' Clock Coffee (EOC). It is firming up a plan to relaunch its brand and also introduce new offerings for consumers in the US and Canadian markets.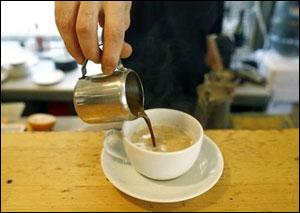 Tata Coffee had acquired EOC in 2006 for $220 million (Rs 1,190 crore today) from Gryphon Investors. Today, it is part of the TGBL family of brands and is a top-rated 100 per cent Colombian coffee.
"Though EOC faced problems last year, it has come back with stronger numbers than it did previously. We are finalising a major plan to revamp the brand. We are coming up with the relaunch and will reposition the product completely by May or June this year for the US and Canada markets," Hameed Huq, managing director, Tata Coffee, said. Tata Coffee had borrowed $168 million to fund the acquisition of EOC in a highly leveraged borrowing programme. "We have so far repaid $38 million and also paid out $41 million in dividends," Huq told Business Standard.
The company is also planning to introduce 'single serve' coffees for its US and Canadian consumers through Green Mountain Coffee Roasters, a speciality coffee roaster, M D Kumar, executive director — finance, Tata Coffee, said.
He said EOC and Green Mountain Coffee roasters had announced a multi-year agreement last year to make EOC, Tetley tea, and Good Earth tea available in different formats.
During the nine months period ended December 31, EOC saw a continuous improvement in its operating performance. EOC's total income in the period was Rs 835 crore against Rs 791 crore, a growth of 5.5 per cent. Its profit before tax grew 12 times to Rs 65 crore against Rs 5.43 crore in the corresponding period.
Following encouraging demand for its instant coffee in West Africa, Japan, Russia, Europe and West Asia, Tata Coffee is expanding its instant coffee processing capacity by 31 per cent to 8,500 tonnes at its Theni facility in Tamil Nadu, said Huq. The company is adding 2,000 tonnes additional processing capacity at an investment of Rs 55 crore, which will be commissioned in April this year. Following its tie-up with Starbucks last year, the company has also set up a new roastery at Kushalnagar in Madikeri district of Karnataka. It has set up a 375-tonne capacity unit at a cost of Rs 4.5 crore, which can be doubled any time, Huq said.
"We have set up new roastery in Kushalnagar to service Tata Starbucks retail as well as supply into Starbucks supply chain. It is functional now. We have got a big launch function next month. As and when Starbucks increases its order, we will increase the capacity. We are now waiting for Starbucks to certify the plant," he added.
Tata Coffee sources Arabica coffee from its plantations in and around the plant in Madikeri and roasts it for Starbucks.
The company produces more than 10,000 tonnes of shade grown Arabica and Robusta coffees at its 19 estates in south India and also exports green coffee to countries in Europe, Asia, West Asia and North America.