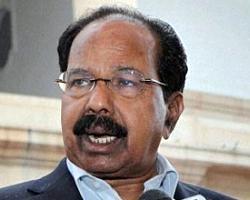 Billed as 'Peace Pipeline' for the troubled South-Asia region, the US-backed $9-billion Turkmenistan-Afghanistan-Pakistan-India gas pipeline is likely to be completed by 2017-18.

Oil Minister M Veerappa Moily reviewed the progress on the ambitious 1,680-km project with Turkmenistan Minister for Oil and Gas Mukhammetnur Khalylov, who is in New Delhi to attend the eighth Asia Gas Partnership Summit.

The four nations to the pipeline are looking for a leader of the consortium that will build the project, official sources said.

While Asian Development Bank has already been appointed as the transaction advisor, the consortium leader will be selected shortly.

The project has not taken off as was envisaged last year when the four nations signed the TAPI pipeline deal.

No international pipeline company is willing to implement the project unless Turkmenistan gives a share in its gas fields.

The four nations are looking for an international reputed firm with experience in building and operating cross-country pipeline to lead TAPI pipeline construction consortium that may including national oil companies like GAIL India, who otherwise neither have the financial muscle nor experience of cross-country line.

Turkmenistan, which does not give foreign firms stake in its oil and gas fields, has flatly refused to give any interest in the upstream project to the pipeline company.

While several financial institutions have expressed interest in financing the project, no pipeline company has so far come forward to take up the project for more than a year now.

ADB is helping the four nations put a credible consortium that would build and operate the line passing through volatile Afghanistan and Pakistan territories.

The TAPI pipeline would originate from Turkmenistan and pass through Afghanistan and Pakistan before entering India.

It will have a capacity to carry 90 million standard cubic metres of gas per day (mmscmd) for a 30-year period and will be operational in 2018.

India and Pakistan would get 38 mmscmd each, while the remaining 14 mmscmd will be supplied to Afghanistan.

The four nations to TAPI are inviting firms to become the consortium leader who will be responsible for the design, funding, building, control and subsequent operations of the pipeline.

The US is backing the TAPI pipeline as an alternative to the Iran-Pakistan-India line in its efforts to choke Tehran financially over its suspected nuclear weapon programme.

Sources said at the meeting Turkem minister wanted GAIL to do city gas project in Ashgabat but New Delhi was reluctant given low volumes of vehicles.

It was, however, agreed that a pilot project will be set up to study the market.
Image: M Veerappa Moily