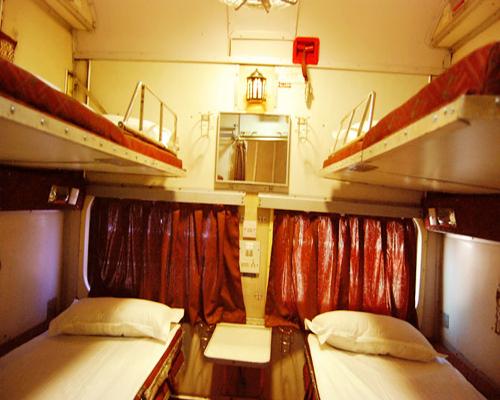 The Mahaparinirvan Express, the special luxury train that connects Buddhist centres, might soon start daily service in the peak October–March season.

For this purpose, talks are on between officials of the tourism ministry and Indian Railways.

The primary Buddhist circuit comprises places connected to the life of the Buddha.

The train covers Buddhist locations such as Bodhgaya, Nalanda/Rajgir, Varanasi/Sarnath, Kus-hinagar, Lumbini and Sravasti.

The government had announced plans to identify and develop five tourist circuits on specific themes.

It had also allocated Rs 500 crore (Rs 5 billion) for the project.

The initial plan of the tourism ministry was to develop the circuit through better roads, infrastructure and hotels.

The lack of economic incentives and the fear of political backlash due to low returns on investments forced the ministry to go slow on the project, a top ministry official said, requesting anonymity.

"Roads, toilets and hotels would have incentivised greater tourist inflow but the maintenance costs would have been tremendously high.

"Also, no government would want to be seen developing roads and toilets in, what is essentially, a tourist circuit," said the official.

The tourism ministry is awaiting tourist numbers from UP and Bihar, which would largely determine the economic feasibility of running a tourist train on a daily basis.

In discussions with railway officials, the ministry said it has plans to invest about Rs 150 crore (Rs 1.5 billion) to incentivise railways to run a daily train.

If the costs escalate, the amount is to be paid in instalments.

"The train will ideally be run on a daily basis, at least from October 1 to March 30.

"The rest of the year can be on the basis of traffic inflow," added the official.

The proposed fares in the special train will be somewhere in the range of thrice the current fare.

The tourists that the primary Buddhist circuit hosts are predominantly from outside India.

This could entail that running the train on a daily basis with higher fares during the peak season could yield revenues to offset the costs.

"The plan is that it will not be as costly as the Maharaja Express or the Palace on Wheels train.

"However, what's also certain is that it won't be as subsidised as most Indian trains are," added the official.
Image: Mahaparinirvan Express; Photograph: Kind courtesy, bodhgayatourism