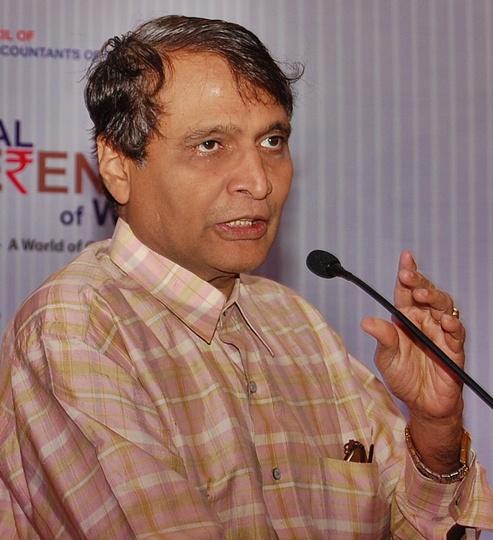 The quiet corridors of the Planning Commission were again agog with activity following talk that the central government would soon announce the former's much-awaited reconstitution.
Former Union power and environment minister Suresh Prabhu's name is doing the rounds for the post of the deputy chairman.
"Yes, there indeed has been renewed work on revival of the Commission and a lot of official documents pertaining to its constitutional validity have been exchanged in the past few days with the Prime Minister's Office," said a senior government official directly involved.
He did say Prabhu was among the names in question for the head's post.
A top Union minister also told a select group of journalists that the Commission's new deputy chairman was expected to announced in the next 48 hours and known to be "media friendly".
The names of other members of the Commission could be announced simultaneously, it was reported. Prabhu, some officials said, suits the bill because of his perceived closeness to the Rashtriya Swayamsevak Sangh (RSS).
Prabhu could not be reached for confirmation. If approved, this would be his second major stint in the ruling establishment.
A four-time Shiv Sena member of the Lok Sabha, from Rajapur constituency in Maharashtra, he was the Union minister for power, industries and environment during the Atal Behari Vajpayee regime.
He is credited with launching the ambitious river-linking project, being carried forward by the Narendra Modi government in some ways.
The Planning Commission has been in limbo since Montek Singh Ahluwalia demited office in May, following the earlier government's defeat in the general election.
Speculations that the new government was not keen to constitute the Commission gained ground after Rao Inderjit Singh was appointed minister of state for planning and programme implementation, with independent charge. Prime Minister Narendra Modi is chairman of the Commission.
The body, though, has continued with its day-to-day work and was being consulted in all important matters, including the Union Budget formation.
"There is no clarity as to whether there will be a full-fledged Planning Commission or a curtailed one," another official said.
With inputs from Archis Mohan