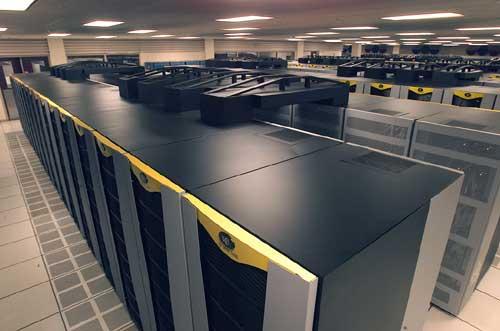 The Unites States space agency NASA has unveiled the world's fastest supercomputer at its Ames Research Centre in California, where India-born astronaut Kalpana Chawla worked for years, in honour of the seven crew members of spacecraft Columbia which crashed last year.
Dubbed 'Project Columbia', the $50 million computer built by Silicon Graphics Inc. is composed of 10,240 processors in 20 units, making it one of the world's most powerful supercomputing systems.
The system, which was unveiled on Tuesday, was built and installed at the NASA Advanced Supercomputing Facility at Ames in less than 120 days.
Silicon Graphics also claimed that NASA's new Intel Itanium 2 processor-based Columbia supercomputer is the most powerful computer in the world.
The new supercomputer achieved sustained performance of 42.7 trillion calculations per second (teraflops), eclipsing the performance of every supercomputer operating today.
Built from SGI Altix systems and driven by 10,240 Intel Itanium 2 processors, Columbia's 16-system result beats NEC's Earth Simulator, rated at 35.86 teraflops, and IBM's recent in-house Blue Gene/L experiment, rated at 36.01 teraflops.
Chawla's former colleagues and other NASA officials paid tribute to her and other members of the ill-fated mission with the technological breakthrough. NASA had earlier named its unit No. 1, Kalpana, after their fallen colleague.
The project is helping NASA scientists conduct studies on weather, including tracking hurricane movement, and in other scientific fields.
The supercomputer also serves as a powerful tool in designing better and safer space shuttles and it has already helped draw lessons from the Columbia accident, Scott Murman, a scientist and a close friend of Chawla, said.
He said the project had helped him and other researchers learn from the tragedy. "There was a little bit of catharsis there. We were contributing to finding out what happened. We had a role to play, rather than just sitting on the sidelines, being helpless."
The investigation into the Columbia crash on February 1, 2003 had found that a piece of insulation foam came off during the flight, hitting the wing of the vehicle. The impact created a hole through which hot gas entered, causing the shuttle to crash during re-entry into the earth's atmosphere.
Using the supercomputer, NASA scientists have been studying different kinds of debris that could cause similar damage, from pieces of foam to ice and frost. The information could enable engineers to build sturdier shuttles.
"It allows us to analyze things to a detail that we could not have conceived of just a few years ago," Murman said.
"This amazing new supercomputer system dramatically increases NASA's capabilities and revolutionises our capacity for conducting scientific research and engineering design," Ames Research Center Director G Scott Hubbard said.
"It will be one of the fastest, largest and most productive supercomputers in the world, providing an estimated 10-fold increase in NASA's supercomputing capacity. It is already having a major impact on NASA's science, aeronautics and exploration programmes, in addition to playing a critical role in preparing the Space Shuttle for return to safe flight next year," Hubbard said.
"With SGI and Intel, we set out to revitalise NASA's computing capabilities, and the Columbia system has done so in a spectacular way," Walt Brooks, chief of NASA's Advanced Supercomputing Division, said.
"Not only were scientists doing real Earth and space analysis during the system's making, but within days of its full installation, we achieved a Linpack benchmark rating of 42.7 teraflops on 16 nodes with an 88 per cent efficiency rating, exceeding the current best reported number by a significant margin," Brooks said.
The Columbia space shuttle accident and a growing concern that the United States is falling behind in supercomputing technology to other countries, such as Japan, have led to a renewed interest in big computers.
The Columbia accident "triggered a rethinking of whether NASA was using computers in the right way," SGI Chief Executive Officer Bob Bishop said.
This was particularly important in studying the ways a spacecraft might operate under different conditions.
"You can have all the desktops you want, but you cannot do full vehicle simulation from hundreds of desktops strapped together," Bishop said, adding that this simulation "can only be done with the largest supercomputers."
Columbia already is enabling scientists to conduct research and analyze complex data much faster in a variety of scientific disciplines.
The research and analysis range from providing more accurate hurricane predictions, to climate change, galaxy formation, black holes and supernovas.
With the help of the new system, NASA scientists have developed an improved global circulation model. Initial results from this model can accurately predict five days in advance when a hurricane is expected to hit land, three days sooner than current methods. -- PTI
NASA's new Intel Itanium 2 processor-based Columbia supercomputer. Photo courtesy NASA