Sukhoi, better known for its fighter jets in India, has this time brought its newly-developed medium-haul aircraft to the Aero India 2011 and has left the people looking at it in disbelief. Can a fighter jet maker build a passenger aircraft?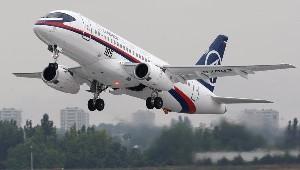 With its eyes on Indian and South-East Asian markets, the Sukhoi Superjet 100 medium-haul aircraft has been brought to the Aero India.

Made by Russia's leading aircraft producer Sukhoi, which is part of the United Aircraft Corporation, UAC, has been brought in to give the potential customers a dekko at the new kid on the block.

The aircraft is now vying for market share in perhaps the most-happening segment. The Superjet 100 project is a family of medium-range passenger aircraft developed by the Sukhoi Design Bureau in cooperation with major American and European aviation corporations.

It is in direct competition with the Mitsubishi regional jet, the Embraer, Bombardier among others. India too is trying to develop an aircraft for the segment with its RTA.