To become part of the consumer's monthly shopping cart, Sugar Free has launched new formats and variants and waged war against online venom.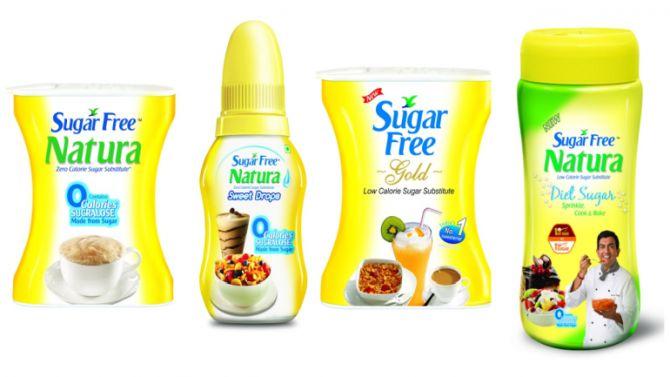 The brand commands close to 94 per cent of the category it helped create.
While it started out its career as a problem-solution product, over its 30-year existence it has slowly made its way into the consumer's grocery basket as a regular-use brand.
It not only has the lion's share of urban markets but has great recall among rural consumers as well.
It is available in about 450,000 outlets which makes it one of the largest penetrated brands in its category.
So why is Sugar Free worried?
For one, there is rampant misinformation about sugar substitutes, a problem exacerbated by a deluge of unverified online reviews.
Two, competitive brands are trying to muscle their way into the market even as there is a growing demand for more "natural" alternatives.
Zydus Group, which launched the Sugar Free brand in 1988, is not resting on its laurels.
It has taken up the challenge head-on and has launched a counter-attack on three fronts.
One, it has launched brand extensions for those who do not approve of sugar alternatives, besides introducing new delivery formats.
Two, it has decided to aggressively address consumer concerns about sugar alternatives and create awareness about the health benefits of cutting down on sugar intake.
Three, it has decided to make an all-out effort to reach newer consumer cohorts through relevant sales channels.
For instance, when it launched Sugar Lite last year, the product was first introduced through e-commerce platforms.
"We want to be part of the consumer's monthly grocery basket, so our positioning has changed to 'smarter choice' - an additive you can use in your food and beverages without the accompanying guilt because it takes away the calories," says Tarun Arora, chief executive officer, Zydus Wellness.
Launched in 1988, Sugar Free started out as a prescription product as part of Zydus' legacy pharma business.
Within three years it shed the prescription tag and became an over-the-counter (OTC) brand.
The transition to OTC was complete by the end-nineties and in the new phase of its life that began in the 2000s, the company's focus shifted to building the brand as a facilitator for "a healthier way of life".
As availability improved, many more people - especially those who were counting calories - began using it.
Over a period of time, the company has introduced new formats like powder and liquid drops that make it easy to mix and consume.
"This also led the consumer to adopt it for culinary use.
"Eventually, we want families to move to Sugar Free for their daily home usage," Arora adds.
A bigger challenge is fighting online misinformation.
"The headwinds come in the form of myths that the brand is not safe.
"There are many reports without any scientific evidence or backing that say it is not good for your health.
"But they don't cite any research to back that claim.
"On the other hand, there are global regulatory bodies that have said that the sucrose and stevia, the sweeteners that we use, are safe even for pregnant women and children.
"So that is our challenge today, but overall, the trend is in our favour," he says.
Zydus Wellness started aggressively fighting the myths surrounding the product about three years back when it moved to a new positioning articulated through its advertising tagline, "Smartness-wali sweetness".
Also, to address the fence-sitters, it launched Sugar Free Green, a natural ingredient-based product, in 2017 and invested a fair amount of money in consumer awareness programmes.
It went on to launch Sugar Lite, which is a blend of Sugar Free molecules with regular sugar, last year.
At the time of its launch, Arora had said that the consumer wanted a sugar substitute but did not want to give up their habit of including sugar in their diet. Therefore, Sugar Lite.
The company has undertaken a series of direct communication programmes and engaged experts - nutritionists, diabetologists, endocrinologists and even celebrities like chef Sanjeev Kapoor - to endorse its claim that sugar substitutes were safe.
On-ground activation was conducted to demonstrate how its products can be used to prepare food and in traditional desserts.
To reach out to millennials and health conscious consumers who access multiple media platforms, it is using a social and traditional media.
"We want to be a mass brand that provides a genuine alternative to sugar.
"We believe as more and more people embrace Sugar Free, it is going to become a part of people's grocery basket," says Arora.
Brand Consultant Harish Bijoor says going forward, the challenge for Sugar Free would be to figure out how it can move to volume packs.
"Indian cooking and dessert preparation is complex.
"Establishing the brand as a substitute to sugar is a real uphill task that will take time."
Arora is upbeat: "It's a hard journey, but we are at it."