The kerosene subsidy is expected to decline by 40 per cent from Rs 7,595 crore in 2016-17 to Rs 4,500 crore this financial year.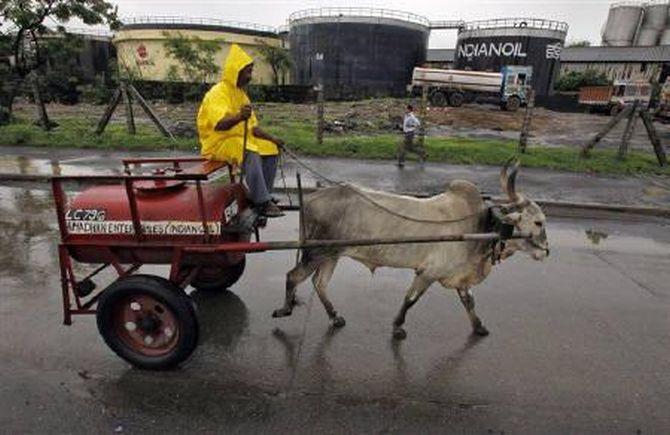 With the Centre's flagship energy schemes Pradhan Mantri Ujjwala Yojana (PMUY) and Saubhagya set to achieve their targets in the next two years, the subsidy on kerosene is likely to be phased out by 2020.
"We expect at least 95 per cent penetration (into households) of liquefied petroleum gas through the PMUY and also 100 per cent electrification (pushed by the Saubhagya scheme) to be a reality by 2020.
"With the consumption of kerosene declining on a daily basis, the aim is to do away with the subsidy by then," said an official.
While there could be an increase in the subsidy on LPG (cooking gas), analysts said there would not be much net increase.
For the first six months of FY18, the cumulative subsidy claims on LPG and kerosene to the petroleum ministry stood at Rs 9,079 crore.
This will rise with the recent increase in global oil prices.
The kerosene subsidy is expected to decline by 40 per cent from Rs 7,595 crore in 2016-17 to Rs 4,500 crore this financial year.
According to the ministry's Petroleum Planning and Analysis Cell (PPAC), kerosene consumption fell 33.7 per cent for the period April to October from the same period last year.
"This was mainly because of reduced allocation to states and voluntary surrender of Public Distribution System quota by a few states.
The month of October saw nil lifting of kerosene by Andhra Pradesh, Chandigarh, Delhi, Dadra & Nagar Haveli, Daman & Diu, Haryana, Lakshadweep, Puducherry and Punjab," a PPAC report said.
The annual fall in kerosene consumption over the past five years has been 8.1 per cent. During 2016-17, it was 5.3 million tonnes, down from 6.8 mt in 2015-16.
"It is a good thing that a clean fuel, LPG, is replacing kerosene. The plan to phase out subsidy is a good strategy.
"More, once production declines further, refineries will have the option to switch kerosene manufacturing units to aviation turbine fuel or diesel," said K Ravichandran, senior vice-president at ratings agency ICRA.
Over the years, LPG has been replacing kerosene as a fuel in rural India. During 2016-17, its consumption rose almost 10 per cent from the year before, to 21.5 mt.
Under PMUY, the government has so far added 31.9 million consumers, taking the India total to 251.1 mn as of November.
The Rs 16,320-crore Saubhagya scheme aims at "last mile electricity connectivity to all rural and urban households" by the end of 2018.
Central government subsidies for electricity transmission and distribution increased from Rs 40,331 crore in 2014 to Rs 64,896 crore in 2016.
Photograph: Danish Siddiqui/Reuters