After a six-week tussle, the strike at General Motors India's Halol factory, 35 km from Vadodara, has finally been called off, with the workers and management reaching an understanding.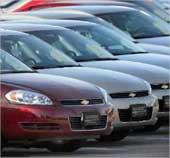 GM India vice-president, corporate affairs, P Balendran, said: "The remaining workers that were involved in a labour dispute in our Halol plant have decided to call off their actions and will resume duties as of tomorrow morning."

He said the agreement between management and workers was supported by state labour department officials in Vadodara. Normalcy is expected in a few days.

Nearly 900 workers had gone on an indefinite strike from the second shift on March 16, primarily complaining on health issues as well as protesting against transfer of employees from the Halol plant.

Around 650-700 workers had resumed duty by March 25, after a dismissal threat by the management if there was no return within 48 hours.

Repeated talks had failed and workers had gheraoed the district labour commissioner's office in April, beside staging protests at the state capital, Gandhinagar. The mediation centre at the state High Court had also failed to make the two parties agree.

The Indian National Trade Union Congress- Gujarat Kamdar Mandal, has softened its stance and agreed to resume work.

"We arrived at an amicable settlement in the presence of the labour commissioner today. The company has agreed to discuss the issues as well as take the suspended workers on board again.

Hence, all striking workers will join back to work.  However, other issues are still pending and will be discussed subsequently with the company," said Nihil Mehta, Gujarat president of Intuc.

The Halol plant was making 190 cars per day in two shifts before the strike broke out. As production resumed after a few days, the company was initially making around 60-70 cars per day.

By mid-April, the company had managed to get back to 150 cars per day. The plant is making the Tavera, Cruze, Aveo U-Va and the Aveo sedan.

To compensate for the 200 striking workers, the company had recruited close to 100-150 temporary workers.

The strike had received moral support from two international agencies, the US-based Institute for Global Labour and Human Rights, formerly known as the National Labour Committee, and the International Metalworkers' Federation.

IGLH had sent an online petition to the senior management of GM, asking them to address the workers' complaints.

The Halol plant has two labour unions, the GM Employees' Union and the Gujarat Kamdar Mandal. The former did not go on strike.