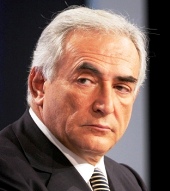 Former International Monetary Fund chief Dominique Strauss-Kahn claimed diplomatic immunity when he was arrested by the police over the attempted rape of a hotel maid here, the American media reported.

"I have diplomatic immunity," Strauss-Kahn told the police when they led him away from his Air France flight at John F Kennedy International Airport on May 14.


"It's not in this passport, I have a second passport. Can I speak with someone from the French Consulate?" he told the police,  NBC News reported.

Strauss-Kahn, 62, allegedly forced the maid at the Sofitel hotel in Manhattan to perform oral sex.

He was taken into custody a few minutes before his Air France flight departed for Paris, earlier
this month.
Strauss-Kahn's statements are contained in a Voluntary Disclosure Form given by prosecutors to defense lawyers and filed by Manhattan District Attorney Cyrus Vance on Thursday.
He also asked for a lawyer, according to the documents, and said that his handcuffs were tight.
"I would like to call my lawyer, Bill Taylor. I need my cell phone," he told the police.
"My attorney has told me not to talk. I was ready to talk," he later said.
Strauss-Kahn is presently under house-arrest in a $50,000 a month house. He has pleaded not guilty to charges of sexually assaulting the maid.
"Is that necessary?" he asked a detective, referring to the handcuff,
The Wall Street Journal
reported.
"Yes it is," came the reply.
Image: Dominique Strauss-Kahn