Eicher, Sun, Vakrangee, Astral and Wabco are among those beating benchmark indices each year since 2010 and are likely to see strong earnings growth in the next two years as well.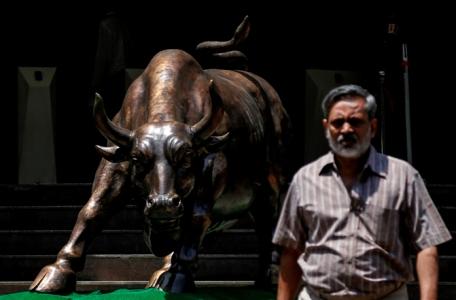 The S&P BSE Sensex has rallied about 28 per cent in 2014, after formation of a stable government at the Centre.
The S&P BSE 500 index has also posted a strong gain of 35 per cent in this period.
This indicates both large-cap and small-cap stocks have participated in the rally.
At the onset of 2015, we have identified alpha stocks over the past five years.
These outperformed (gained more/fell less than the benchmark) the S&P BSE Sensex and S&P BSE 500 indices every year since calendar year 2010.
The list is well diversified between defensives and cyclicals.
Sun Pharmaceutical Industries, Vakrangee, Eicher Motors, Astral Poly Technik, Wabco India, Kaveri Seed, Page Industries and Symphony are among the 23 in the BSE 500 universe which out-performed both the mentioned indices every year for the past five years since 2010 (see table).
Stocks from the pharmaceuticals (Sun Pharma, Lupin, Ajanta Pharma and Torrent Pharma) sector lead the tally, with four classified as alpha.
Automobile ancillaries (Wabco, MRF and Apollo Tyres), with three stocks, is a close second.
These are followed by non-banking finance companies and paints -- Bajaj Finance, Shriram City Union Finance, Asian Paints and Berger Paints beat the indices.
Surprisingly, there is only one stock from the fast moving consumer goods segment, Emami.
All other scrips seem to be trading at very high levels already. Interestingly, companies enjoying a leadership position in their sectors (Pidilite, Asian Paints, Arvind, Page Industries) have also given benchmark-beating returns in each of these five years.
These stocks are further filtered on the basis of their compounded annual growth rate for their earnings per share over FY14-17, to identify good investment ideas.
Interestingly, 16 of these 23 stocks are likely to post a 20-plus per cent CAGR in EPS, according to Bloomberg consensus estimates. Six are likely to post one of 34-68 per cent.
Eicher Motors (an EPS CAGR of 68 per cent), Sun Pharma (51), Vakrangee (48), Astral Poly Technik (41) and Wabco (39) top the list on expected EPS growth.
Strong traction in the Royal Enfield (RE) motorcycle business is a key catalyst for Eicher.
The joint venture for trucks with Volvo is likely to witness improved demand momentum from 2015 and fuel further growth.
While RE is well positioned, with a five-month order backlog, increased competitive intensity and delayed pick-up in the commercial vehicles segment are key risks.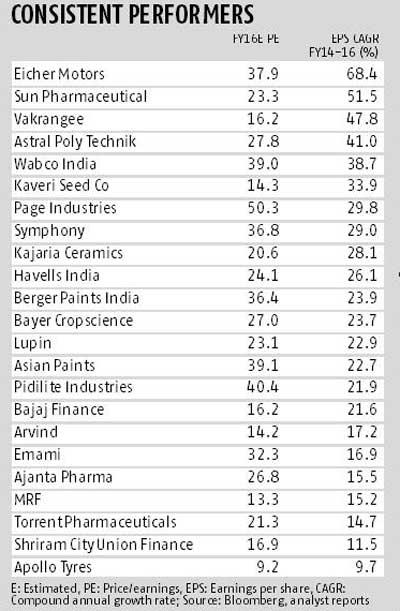 A strong product pipeline in America, improving growth prospects in the domestic market after the Ranbaxy integration and continued healthy traction for Doxil in the US are key growth drivers for Sun Pharma.
"It trades at 23 times the FY16 estimated earnings and we think the valuation premium is well deserved, given the execution record and one of the strongest balance sheets in the sector, which provides requisite leeway to pursue strategic alternatives," says Abhishek Singhal of Macquarie Securities in a recent note.
Vakrangee is a play on India's efforts to push e-governance across departments.
The company is involved in key initiatives such as Unique Identification Authority of India, launching white-label automated teller machines, the Sarva Shiksha Abhiyan and in setting up and managing 50,000 ultra small bank branches.
The Street has cheered Astral Poly Technik's foray into adhesives via a buyout of Resinova.
It expects this segment to form 25 per cent of consolidated revenue in FY16.
"Astral is our top pick on expectations of superior earnings growth and profitability in the PVC pipes business, over Supreme Industries and Finolex Industries, driven by successful new launches," analysts at Antique Stock Broking wrote in a recent report.
Wabco India is the only supplier for automated manual transmission technology in India and stands to benefit from its increased adoption.
Strong parentage, near-monopolistic positioning in braking systems, a likely pick-up in domestic demand and a zero-debt balance sheet are key positives.